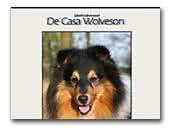 Sheltiekennel De Casa Wolveson
Welcome to Kennel 'De Casa Wolveson'!

We are a small sheltiekennel in the Netherlands. You can meet our Shelties on our website. Puppies are born and raised in our bedroom, and move into our living room at 3 weeks of age. We try to breed sound and healthy shelties with a good temperament.

The small size of our kennel allows us to ensure that each puppy is properly socialized. Each puppy, no matter whether destined for the show ring or for a family companion, receives the same loving care. We provide ongoing support to all buyers and hope to continue to serve this lovely breed. For additional information please visit our website.
Shetland Sheepdog