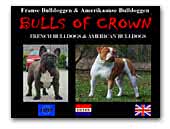 Bulls of Crown
French Bulldogs and American Bulldogs
Welcome at "Bulls of Crown" French Bulldogs!!! Our family are 100% animals lovers and they are a large part of our live. Are you looking for a healthy pup from fully tested parents inclusive a DNA certificate then you have come to the right place. We wish you much pleasure at our website!! You can call or email us...

We of the Bulls of Crown kennel started breeding American Bulldogs(hobby) from 1999 and we have been confessed in all countries. We have already exported puppies to Aruba, France, Belgium, Curacao, Norway, Spain, Canada, Sweden, Romania, USA, Hawaii, England, Turkey, Australia, Portugal, Hungary, Bonaire, Switzerland , Russia... We only breed with dogs that are Hip dysplasia(HD), Elbow Dysplasia(ED), Canine Ceroid Lipofuscinosis(NCL), ichthyosis tested and all our dogs have a DNA certificate.
French Bulldog
American Bulldog