Dog Breeders > Netherlands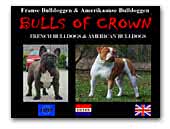 Bulls of Crown
French Bulldogs and American Bulldogs
Welcome at "Bulls of Crown" French Bulldogs!!! Our family are 100% animals lovers and they are a large part of our live. Are you looking for a healthy pup from fully tested parents inclusive a DNA certificate then you have come to the right place. We wish you much pleasure at our website!! You can call or email us...

We of the Bulls of Crown kennel started breeding American Bulldogs(hobby) from 1999 and we have been confessed in all countries. We have already exported puppies to Aruba, France, Belgium, Curacao, Norway, Spain, Canada, Sweden, Romania, USA, Hawaii, England, Turkey, Australia, Portugal, Hungary, Bonaire, Switzerland , Russia... We only breed with dogs that are Hip dysplasia(HD), Elbow Dysplasia(ED), Canine Ceroid Lipofuscinosis(NCL), ichthyosis tested and all our dogs have a DNA certificate.
French Bulldog
American Bulldog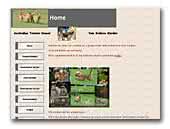 Vom Schloss Mordor Australian Terrier
The Australian Terrier is playful, alert, and very intelligent. It is highly energetic and powerful, especially for its small size. It seems to think of itself as a rather large dog. Australian Terriers are clever and adventurous. They do not bark frequently. Aussies have great hearing and pay keen attention, making excellent watch dogs. They are cautious, but not aggressive, around strangers.

The Australian Terrier gets along fine with children, provided they are respectful. Aussies are calm and outgoing, making excellent companions. They have a high prey instinct, especially for small cats or rodents, and should be socialized when young if they are intended to live with other pets. Australian Terriers require frequent human companionship.
Australian Terrier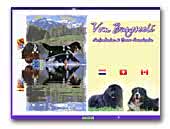 Kennel vom Burgseeli
We have had Newfoundland since1984. Our goals are longevity, type and temperament, which is paramount in our lines. All our dogs are screened for hip & elbow displasia, Heart, Cystiniria.

We prefer to breed big, impressive, chunky & well boned Newfoundland, with superbe movement and the typical Newfoundland temperament which means lifely & devoted.

Our Puppies will be born and reared in the house and will be FCI Registered. 1st injection given, wormed, vet checked, microchiped, diet sheet, help and advice. Be prepared for questions about you and your family.

Once I have seen you and happy with you then I will let you have one of my puppies.
Bernese Mountain Dog
Newfoundland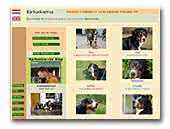 Karhunkierros - Greater Swiss Mountaindogs en Entlebucher
For over 10 years specialised breeder of greater swiss mountain dogs en entlebucher cattledogs.


Great Swiss Mountain Dog
Entlebuch Cattle Dog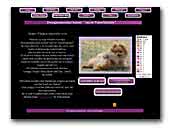 v.d. Pomeriaantjes - Pomeranian kennel
We are a small pomeranian kennel in the netherlands and we breed a few litters a year. We carrefully select our breeding program and then select our future hopefulls.

We breed since 2006 in the colour: Creme, Creme sable, orange, Orange sable, If you are interested in a puppy from our kennel you can mail me.
Pomeranian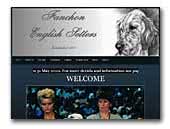 Fanchon English Setters
Fanchon English Setters: ' Where exterior qualities, health and hunting abilities still go together.'

A healthy English Setter population has and always be our strive and ever since confronted with deafness (early 1990's) we have tested all our adult dogs prior to breeding them and all their offspring (puppies) without any exception. Dogs bred, co-bred,co-owned or owned by us gained 38 Champion Titles and/or Multi Champion Titles. On occasion we have a litter but do not breed very often so the quality of our dogs can't be found in how many dogs we have bred over the years as we believe less is much better.
English Setter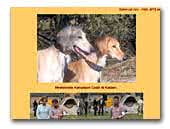 Onze Saluki Jongens / Our Saluki Boys
Dat je met saluki niet alleen op show maar ook op coursing en baanrennen aan de top mee kunt doen.
Saluki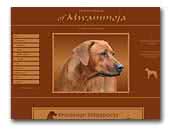 of Mwammoja
A small Rhodesian Ridgeback kennel with great love for this special breed.
Rhodesian Ridgeback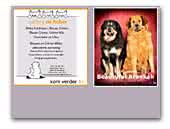 Beautyful Arankah Tibetan Mastriff
We breed with 2 females (a red one and her doughter a black and tan), they have HD A en all the other testes are also oke. The are growing up in our livingroom. With our cats.
Tibetan Mastiff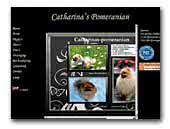 Catharina's Pomeranian
We are a small pomeranian kennel in Holland and we breed 2 or 3 litters a year. We carrefully select our breeding program and then select our future hopefulls. We go to dogshows in Holland Belgiam Germany and Luxemburg, and love to do this. If you are interested in a puppy from our kennel you can mail me.
Pomeranian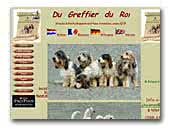 du Greffier du Roi
Grands & petits Bassets griffons Vendéens since 1978. More then 60 Champions and 19 Int. Champions including Worldchampions.


Grand Basset griffon vendéen
Petit Basset griffon vendéen
.

.