Dog Breeders > Netherlands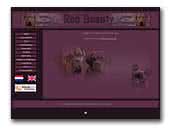 Redbeauty
Hello, my name is Marion, and my big loving is the Bordeaux on this momment we have 9, bordeauxdog and 1 frencie and hope in the summer having a nw breed in our kennel. We love too walk shows Nat and internationaal, more info about us and my dogs, you can,t find on the site,
greetings Marion
Dogue de Bordeaux

van de Hoolhoeve Briards
Wij fokken af en toe een nestje uit wel overwogen combinaties, Wij fokken op karakter, gezondheid en werkeigenschappen. puppen ondergaan op de leeftijd van 7 weken een karaktertest.
Briard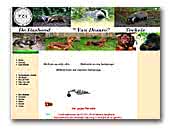 Van Desaro
Teckels in het langhaar dwerg en kaninchen en ruwhaar kaninchen.
Dachshund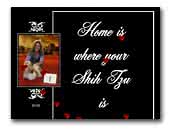 Gremley's Shih Tzu
Shih Tzu breeder on small basis, all dogs live in the house, companion is important. We also do shows, since 1991, and enjoy it a lot. Breeding with very good bloodlines, always welcome to see our dogs at home.
Shih Tzu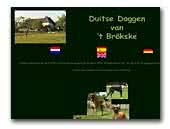 van 't Brökske
Wij fokken af en toe een nestje in geel/gestroomd en zwart/wit. Voor meer informatie bezoek onze website eens.

We breed in fawn/brindle and black/white. Look for more information our website.

Wir zuchten in gelb/gestrommt und schwarz/weis. Für mehr Information bitte besuche unseren Homepage.
Great Dane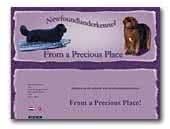 from a Precious Place
newfoundlanderkennel
Breeder of black and brown newfoundlands. For more info about us and our dogs, please visit our site.
Newfoundland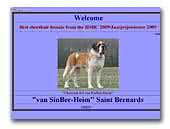 van SinBer-Heim saint bernards
We are a small showkennel in the Netherlands. Come and visite our site and meet our dogs.
St. Bernard Dog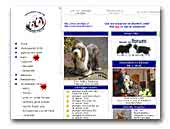 Vrienden van de Bearded Collie
Site about the Bearded Collie with showresults and pics from the Netherlands, Belgium, Germany and Luxembourg.
Bearded Collie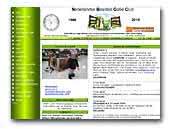 Nederlandse Bearded Collie Club
The official Dutch Bearded Collie Club.
Bearded Collie
« Prev 1 2 3 4 5 6 7 8 9 10 11 12 13 14 15 16 17 18 19 20 21 22 23 24 25 26 27 28 29 30 31 32 33 34 35 36 37 38 39 Next »