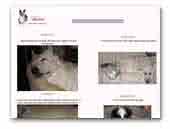 MAIRWEN Welsh Corgi Cardigans
Our page is about our Cardigans, the sports we do with them, all adventures we have with them, lots of pictures and lots of information about the breed, health etc.

Onze pagina gaat over onze Cardigans, de sporten die we met onze honden doen, alle avonturen die we met de honden beleven en informatie over gezondheid en dergelijke. Natuurlijk zijn er ook veel foto's te zien.
Welsh Corgi Cardigan