Dog Breeders > Poland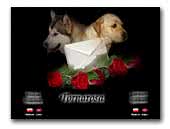 Tornarosa Alaskan Malamute
& Labrador Retriever
We live in Sroda Wielkopolska in Poland Our home is locate near beautiful lake and forest. We have many place to walks with our dogs and for canicross. Our dogs live in our home, If they will they have possible spent many time in the garden.

Puppies always born and grow up in home. Our dogs are feed by Eukanuba. We will breed Alaskan Malamute in type similar to Nanuke line. We are also breeder of Labrador Retrivers we love England lines.
Alaskan Malamute
Labrador Retriever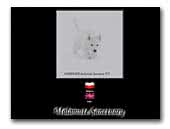 Malamute Sanctuary FCI
Alaskan Malamute
Our kennel is very young since 2006, first litter born in 2008. But acquisition of knowledge in the direction of Alaskan Malamute become from 1997.

Each par are in our breeding carefully selected in order to achieve our goal, which is beautiful, powerful introduce, and at the same time full of zeal for work, with typical of the breed for appearance and character, healthy Alaskan Malamute. We don't try to breed a luxury or a typical " working malamutes - we aim to balancing of these features. We try to continuing the breeding works on which is heart of the thrust and commitment famous breeders in the country of born the breed. We want to breed in order to consolidate and recorded features beautiful Alaskan Malamute. to be surrounded a beautiful, healthy malamutes, forming a good team in sled to the beauty of values demonstrated in the exhibition of dogs and, above all, provide a valuable genetic baggage for further generations. We hope that this what we do be appreciated and we will invite You to visit our virtual and real kennel. On our website will continuously arrive information about malamutes and photos not only our malamutes. Our dogs is ours love, ours world.
Present

We live in a small village near Rzeszów in Poland surrounded by meadows and forests. Malamutes at home are permanent, in the garden also they have spacious dogs pen. Puppies in the first weeks is staying at home, however, and when the weather is conducive and they are older, spend their days on the puppypen just for them, in which there is a mini playground for puppies.
Alaskan Malamute

from Marcyporeba
Great Dane and English Bulldog kennel
The great danes and english bulldog kennel from Marcyporeba is inviting in to our website. We love great deans, which are living with us.
Great Dane
English Bulldog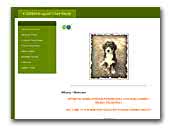 CARMEN spod Góry Ślęży
Date of birth: 15.04.2009r.
Tattoo ID: R281
Mental Tests: 5 / 5
Dysplasia: HD: A ED: 0 / 0
Breeding Status: Breeding Female
Puppies: Litter T,
Father: Junior Champion  Ch.Pl Int.Ch Chuck Tanais
Mother: BAXA spod Raduni

Gay funny girl, with strong bones and typically feminine head, fond of small children, caring, self-confident. As a puppy she liked to catch his grandmother and me and the rest of the family, was very fond of her, always keeping pace with me, always support me in spirit, and for that I love her.: ** I have from the beginning I knew that this little girl will stay with me! : D
Bernese Mountain Dog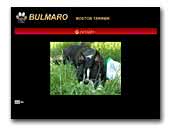 BULMARO
"BULMARO"! Welcome to the kennel boston terrier. The best in Poland. BERTA Bulmaro, Excellent puppies.
Boston Terrier
Rottweiler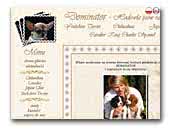 DOMINATOR
Witam serdecznie na stronie domowej hodowli piesków do towarzystwa DOMINATOR i zapraszam do jej obejrzenia.
Japanese Chin
Chihuahua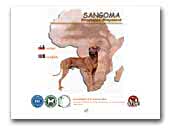 SANGOMA Rhodesian Ridgeback
We are breeders and dog trainer. Ridgeback are our passion. Visit site to get more information about our dogs and puppies. Have fun :)
Rhodesian Ridgeback
« Prev 1 2 3 4 5 6 7 8 9 10 11 12 13 14 15 16 17 18 19 20 21 22 23 24 25 26 27 28 29 30 31 32 33 34 35 36 37 38 39 40 41 42 43 44 45 46 47 48 49 50 51 52 53 54 55 56 57 58 59 60 61 62 63 64 65 66 67 68 69 70 71 72 73 74 75 76 77 78 79 80 81 82 83 Next »