Dog Breeders > Poland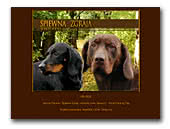 Śpiewna Zgraja
Hodowla Gończych polskich "Śpiewna Zgraja" założona została w 2001 roku z rodzinnej hodowli "Hulaj Dusza". Prowadzona jest przez Martę Święcicką w Smolnicy koło Gliwic. Obecnie podstawą hodowli są dwie suki czarne-podpalane TEBA i MAGA oraz pies czekoladowy-podpalany  PAGON Śpiewna Zgraja-reproduktor. Zapraszamy do hodowli!
Polish Hunting Dog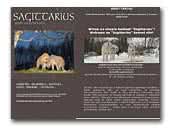 SAGITTARIUS - Wilczarz Irlandzki
Oldest active kennel of Irish Wolfshounds in Poland

Description: I first saw a wolfhound in 1974 and I have been fascinated by the breed since then. All my expectations were met when I brought home my first wolfhound - Arabeska Santana Z Hubertowego Dworu (from Hubert's Manor).

Her parents originated from Sweden and she came from the first litter of wolfhounds born in Poland in modern times. She became mother of my first litter and lived for over 11 years. Since then I have had 54 litters of wolfhounds. In order to give my breeding a deeper meaning I have been always looking for valuable, new bloodlines and I have imported 15 wolfhounds over the years - from UK, Czech Republic, Denmark, Belgium, France, USA and Ireland. Hounds from my breeding won numerous champion and international champion titles as well as BIS titles. Some of my dogs have participated in therapy in schools and hospitals. In 2006 I have created the first Polish internet forum for wolfhound owners and breeders. I am always willing to give advice in the matters concerning the breed and I have been updating my database of all IW litters born in Poland since 1980.
Irish Wolfhound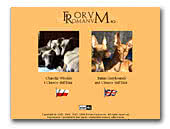 Forum Romanum
Italian greyhounds are our passion since 1990 - we base our breeding on best european lines. You are welcome to visit our website!
Italian Greyhound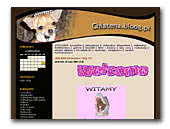 Hodowla Chiatena
Hodowla Chiatena zaprasza do odwiedzenia naszego bloga poświęconego najmniejszym pieskom swiata jakimi są chihuahua.
Chihuahua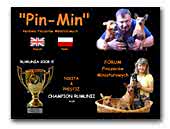 Kennel PIN - MIN
The breeding "PIN-MIN" of pedigree dogs is specialized in miniature pinchers dogs, the dogs of tiny sized but with sports figure and resolute character. The most important for us are the four small dogs which are our friends to play with, walking and with great pleasure we prepare them for the exhibitions. Welcome !!!
Miniature Pinscher

My Hairy Braveheart - Westie Kennel
Westies, shows, champions, puppies . We breeding very loyal and loving West Highland White Terrier. Our dogs have successfully been showed on European exhibitions. Welcome to visit our website.
West Highland White Terrier
Black Terrier
« Prev 1 2 3 4 5 6 7 8 9 10 11 12 13 14 15 16 17 18 19 20 21 22 23 24 25 26 27 28 29 30 31 32 33 34 35 36 37 38 39 40 41 42 43 44 45 46 47 48 49 50 51 52 53 54 55 56 57 58 59 60 61 62 63 64 65 66 67 68 69 70 71 72 73 74 75 76 77 78 79 80 81 82 83 Next »