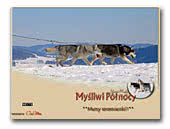 Myśliwi Północy - hodowla siberian husky
Strona domowa hodowli siberian husky - Myśliwi Północy. Na stronie rodowody naszych psów, galerie, osiągnięcia, zapowiedzi miotów, szczenięta. Zapraszamy!
Siberian Husky


Theogonia kennel
Theogonia - this is small, home kennel. At the moment thers only one female - Czama from Czarny Dwor. My intentions are to have puppies, which will be breed in kennel, will be distinguished perfect psyche,excellent exterier but also which will have exceptional and remarkable working features.
German Short-haired Pointer