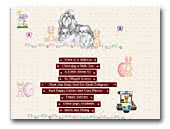 Nanuke ShihTzu
Doll Face Shihtzu Pups. All Our Babys Are Bred For Top Health And Temperament, 21 + Years Experience, Breeders Of Show and Pet Quality, AKC and international Registered DNA Tested, 2 sets of shots, Microchip and Registration Paid for life.

Puppy Kit includes: 8 lb bag of food, Kennel, Bowls, Treats, Toys, Blanket, Comb, Brush, Bows, Training DVD, Peewee Pads, and other goodies like paul mitchell pet, PetHead, Brisk&Bright Products.
Shih Tzu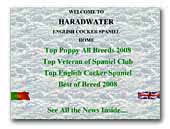 Haradwater English Cocker Spaniel
Welcome to the home off lovely and happy cocker spaniel ,breeding this beautiful breed since 1994, with several multi champions, with health, happiness, and quality.
English Cocker Spaniel