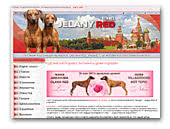 JELANY RED Kennel
JELANY RED Kennel (RIDGE'S STAR JEREMY RED + ARESVUMA OLANA RED)

Description: ARESVUMA OLANA RED (Int, Multi CH Heshima Ya Kimba Fuku Shabalala х VEW'11, Multi CH Vizara Iringa Aresvuma) *18.01.2009, 66 sm, 35 kg, scissor bite, full dentition, Temp. test - 1st grade, Blood tracking test - 3nd grade
JWW'10, CW'11, CH EURASIA'12, JCH RUS, JCH CLUB, СH RUS, CH RKF, CH CLUB RUS, JCH CLUB RUS, CH UKR, СH BEL, CH SLO, CH ROM, GRAND CH ROM, CH MOL, GRAND CH MOL, 6xCACIB
Breeder Svetlana Malinnikova, owner Kamle Elena

RIDGE'S STAR JEREMY RED (Int, Multi CH N'Gai Zamu of Ginba's Hero х Int, Multi CH Rebecca Ridge's Star)
*12.11.2005,  68 sm, 41 kg, , scissor bite, full dentition, HD–A/A, ED–0/0, Temp.test - 1st grade, General training test - 1st grade, Blood tracking test - 2nd grade

Vice-JWW'06, INT CH, 4xCLUB CH, JCH RUS, CH RUS, CH BLR, CH UKR, CH POL, CH FIN, CH LV, CH LT, CH EST, CH BALT, CH BUL, CH ROM, CH MAK, CH SRB, CH SLO, CH BOS&HERZ, CH BALK, CH GRAND RUS, CH GRAND BLR, CH GRAND UKR, CH GRAND ROM, CH GRAND BUL, WBY'09, 3xCAC VDH, R.CAC WDS'09, 14хCACIB, BISS-I, BISS-IIIx2, BISS-IIII, Best Stud dog of Club Show'08 and Russia'09
Breeder Anna Spesivykh, owner Kamle Elena.
Rhodesian Ridgeback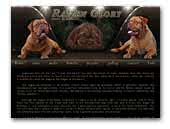 Raizen Glory Dogue de Bordeaux
Our site is devoted to the kennels "Raizen Glory", to our achievements at the shows, to some of the samples of the breed and, certainly, puppies of the best samples of the ancient breed The Dogue of Bordeaux (Frenchmastiff)

The priority directions of the breeding activity of our kennels are psychic and physical sanity of the dogs. Our dogs are certain to get a qualified medical help at the clinic "Bazilio and Kit" we closely cooperate with. All of our DDBs get a hip joint and elbow joint dysplasia check up. The pedigrees of our DDBs have the most modern lines of the leading European kennels.

Our kennels is young, however we have high-quality male breeds and we are going to improve further. We cooperate with the leading kennels and breeders of Russia and Europe, participate in the maijor shows, permanently raising our expertise and trying to keep ourselves informed about all the events in the kinology world, in particular, in the world of the Dogue de Bordeaux.
Dogue de Bordeaux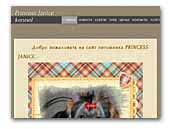 Princess Janice kennel
Our kennel is officially registered in the RCF and the FCI. We are professionally engaged in the breeding performance and breeding dogs decorative breed Yorkshire Terrier. The Aim of the Nursery is to match pairs not only with regard to exterior, phenotype, and genotype manufacturers.

It is important that the offspring were not only beautiful, but also healthy , the most relevant to the requirements of the standard. We will introduce You to our four-legged family, show pictures, and of course will tell you about our show results. I hope that the time spent browsing the site You will find useful and fun!
Yorkshire Terrier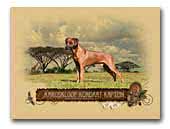 Kaptein Rodesian Ridgeback
The Rhodesian Ridgeback Karoskloof Kordaat Kaptein (short name – Kapi) was imported from one of the world famous kennel in South Africa "KAROSKLOOF" to Russian cannel "Lobengula" in 2006.

Kapi is an "African miracle" combining energy, strong will, good temper and friendliness.  He brought everything best from the famous representatives of African kennels  like Sarula, Umwutcha, Pronkberg. He comes from a legendary Ch Camelot's Technikal Knockout, from African kennel "Camelot", who was thoroughly described in Stig G Carlson's book "The Rhodesian Ridgeback".Puppies Rodesian Ridgeback.
Rhodesian Ridgeback