Dog Breeders > Russia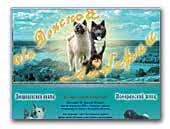 Iz Donskoy Liberii
Akita américain and Deutscher Spitz
The kennel "Iz Donskoi Liberii" is registered in 2000, the Basic breeds - the American Akita and the Pomeranian spitz.

On pages of a site you can see representatives of our kennel, their descendants, familiarise with genealogical, our successes and achievements and is final, to pick up to yourself the loyal friend.
American Akita
Pomeranian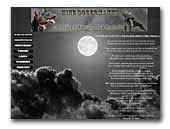 EP Helios Hektor & ZhCh Rostislav
- mine dobermanns
Personal site of dobermann males, information about them and their progeny.
Dobermann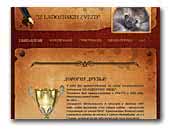 IZ LADOZHSKIH ZVEZD
I'm breeding Pomeranian and Small German Spitz. I love the different colors, especially black and white. All our dogs have titles and the Champions are the winners of exhibitions. We offer puppies for breeding, as pets.
German Spitz - Pomeranian, Kleinspitz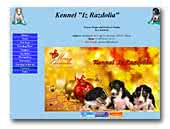 kennel Iz Razdolia
International & Multi Show Ch , hunting Ch

Website about our borzoi-kennel Iz Razdolia. About our borzois, about our litters and about our breed. Moscow, Russia.
Borzoi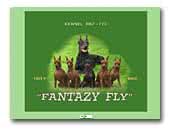 kennel FANTAZY FLY
Kennel of miniature pinschers and jack russel terrier from Russia.
Miniature Pinscher
Jack Russell Terrier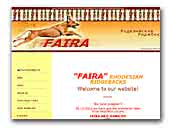 Kennel FAIRA - Rhodesian ridgebacks
Welcome to our young kennel FAIRA! We began breeding from mating at Chzeck Republik and have got the beautiful puppies in our first litter, two of which have been Inter and Multi Champions and one a Junior European Champion!

Our stud male Faira Arif Kamilifu successfully used in breeding and has several litters with a minimum number of faults, excellent anatomy and temperament. Our dogs have successfully engaged obedience, agility and have success in the show rings.
Rhodesian Ridgeback

IZ KOROLEVSTVA MARGARITY
Samoyed kennel
We are Samoyed Kennel in Russia.

Питомник Самоедов «ИЗ КОРОЛЕВСТВА МАРГАРИТЫ».
Samoyed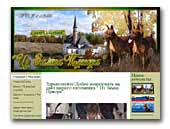 'Из Замка Приора'
Питомник цвергпинчеров
Питомник цвергпинчеров "Из Замка Приора", перспективные щенки цвергпинчера,племенные кобели для вязок.Питомник занимается разведением собак породы цвергпинчер,она является ведущей породой нашего питомника. Так же у нас в питомнике есть собаки породы: такса кроличья длинношерстная и немецкий шпиц.На страницах нашего сайта Вы можете познакомиться с представителями нашего питомника,узнать о о наших планах на будущее.В разделе продаж посмотреть щенков,имеющихся в данный момент в питомнике.Мы будем рады видеть Вас на страницах нашего сайта.Приятного Вам просмотра.
Miniature Pinscher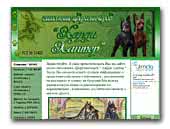 Питомник Цвергпинчеров 'Харди Хантер'
Kennel Zwergpinscher "HARDY HUNTER " I will be happy to welcome you on a site of my cattery  you can find out full details of our cattery, achievements at exhibitions and plans for the future.

Питомник Цвергпинчеров "Hardy Hunter" Щенки цвергпинчера . кобели для вязок.  Я буду рада приветствовать Вас на сайте моего питомника Цвергпинчеров " Харди Хантер "  Вы сможете узнать полную информацию о представителях нашего питомника , достижениях на выставках и планах на будущее.Мы всегда дадим консультацию и рекомендации по выращиванию , кормлению ,воспитанию щенков и многое другое.
Miniature Schnauzer

Del Terro Perros - Dog kennel
Dog kennel "Del Terro Perros" registration in FCI-RKF, a member of IBC (Internationaler Biewer Yorkshire Terrier Club e. V.). Breeding Breeds - Chinese Crested, Yorkshire Terrier and Biewer York.
Chinese Crested Dog
Yorkshire Terrier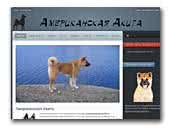 akita-american.ru
Американская акита - питомник собак.


American Akita
.

.