Dog Breeders > Russia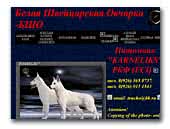 Питомник KARNELIKS РКФ (FCI)
Kennel - "Karneliks", breeding of Swiss white shepherds. Our breeding results in healthy, and show dogs.
White Swiss Shepherd Dog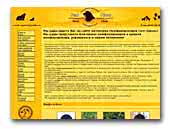 Sent Djons Newfoundland
Our kennel is located in a big town from Russia, called Moscow. We breed Newfoundlands black & White and Black colors and leaning on good quality lines.  Our kennel Has registration at the FCI-RKF. We breed dogs for quality, show, health and splendid temperament.

We love them and we are sure that newfoundlands are the most magnificent and smart dogs in the world!  Dogs are a part of our family. Visit our Homepage.
Newfoundland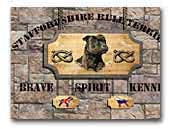 Brave Spirit Kennel Staffordshire bullterrier
Staffordshire Bull Terriers breeders site, with information about Staffordshire Bull Terriers.
Staffordshire Bull Terrier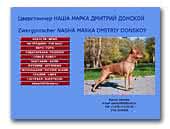 Nasha Marka Dmitriy Donskoy
Welcome to personal website of Miniature pinscher Nasha Marka Dmitriy Donskoy.
Miniature Pinscher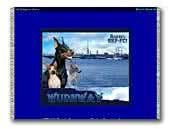 Wudnway Kennel
American Hairless Terrier
Wudnway Kennel - first AHT in Russia

We are enjoing our life with AHT since December 2004 when we got our first terier. For the time had been passed our AHT became Champions of Russia, Ukrain, Moldova, RKF on FCI show, Multiwinners of AHT specialties and loving dogs in many families in Russia and abroad.
American Hairless Terrier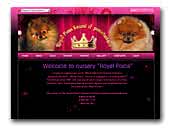 Royal Poms Kennel
Kennel is engaged in a breeding of the Pomeranian since 1997. The purpose of our business is to improve of a Spitz livestock here. The leading lines of America, Europe and Southeast Asia are the basis of the "Royal Poms".
Pomeranian
« Prev 1 2 3 4 5 6 7 8 9 10 11 12 13 14 15 16 17 18 19 20 21 22 23 24 25 26 27 28 29 30 31 32 33 34 35 36 37 38 39 40 41 42 43 44 45 46 47 48 49 50 51 52 53 54 55 56 57 58 59 60 61 62 63 64 65 66 67 68 69 70 71 Next »