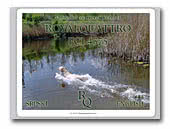 Royalquattro labrador retriever kennel
One summer day, as my wifes birthday present, in our life walked in one little yellow puppy named Astra. We didnt menage well, and she allready took place on a sofa and in our harts. Astra was grownig and with her our love to labradors and findings about that species.

When Astra grow up and wanted her own descent we decided to give our truelove high descent, by going to Cheska, and finding the best male for her. Male SMOKESCREEN was first and only choice, and he contrive us 10 lovelly puppies. When they grove up a little winned by their gentleness and prittines we decided that they deserve to belong to one breeder. In FCI by No.4575 , we are registrated as Royalguattro.
Labrador Retriever