Dog Breeders > Spain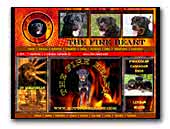 The Fire Heart Rottweilers
Rearing and selection of the Rottweiler we united: character, beauty and work Line of blood A.D.R.K..
Rottweiler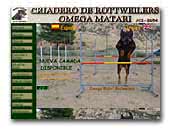 Omega Matari Rottweiler kennel
We are a small kennel, breeding Rottweilers exclusively since 1991. Our dogs are known for their noble and workwilling caracters. Most our dogs are being worked in agility and obedience.

We breed mixed show/worklines and we use the best European bloodlines. All our dogs are HD and ED clean which we think is most important espcially for working dogs. At our place off 10.000 square meters our dogs all live together peacefully in a pack and i am the Alfa. They don't need to be kenneled.

I love my dogs and they guard over me and my family with their lives, which a good Rottweiler should do. Their noble caracter, their will to please and their natural guarding-instinct makes them into the greatest familydog. Our responsibility towards our pups does not end at the moment of selling them, it only comes to an end when that Omega Matari dog crosses the rainbow.

Who says money does not buy friends ?? You can buy yourself a BEST friend at Omega Matari.
Rottweiler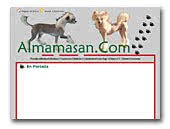 Almamasan chinese crested
Photos about shows, our dogs, this way as pedigrees of them and our next litters.
Chinese Crested Dog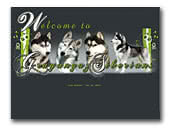 Gruyangaz Siberians
Spanish siberian husky breeder. Shows, photos, pedigrees.
Siberian Husky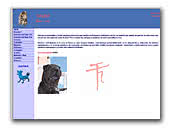 TIANXIA Shar-Peis
Selection, breeding and exhibition of Shar-pei in family atmosphere.

Almudena y David
Shar Pei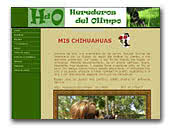 Herederos del Olimpo
Cria y selección de chihuahuas de pelo corto. Seriedad y calidad. Cachorritos para show y compañía. Pedigree de la R.S.C.E. Excelentes líneas de sangre.
Chihuahua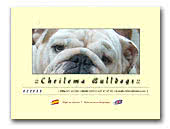 Chrilema Bulldogs
Cria y selección del Bulldog Inglés.
English Bulldog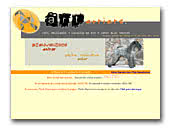 ARTerriers - Fox & Kerry Blue Terrier
Breeding, grooming & handling of Fox & Kerry Blue Terrier.

Cría Peluquería y handling de Fox y Kerry Blue Terrier.
Fox Terrier Wire
Kerry Blue Terrier
« Prev 1 2 3 4 5 6 7 8 9 10 11 12 13 14 15 16 17 18 19 20 21 22 23 24 25 26 27 28 29 30 31 32 33 34 Next »