Dog Breeders > Ukraine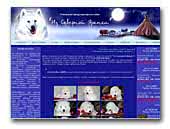 Kennel FCI Iz Severnoy Yarangi
This site has been updated to contain changes in procedures relative to current diseases and dietary trends. It also offers some warnings and the problems that the proposed new buyer must consider before making that final decision.

Having made that decision to own one of our beautiful breed, we hope that our web-site will help you keep your dog in a manner that is a compliment to you and the breed.
Samoyed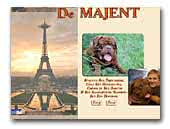 Kennel De Majent
Welcome to the Bordeaux dog kennel "De Majent"!
Our kennel has become operational in 2002. In the kennel dogs of the wonderful Bordeaux dog breed are being bred. Bordeaux dogs have earned reputation thanks to their smartness and cleverness, great temper, loyalty and self-assurance, fearlessness and vigor under any circumstances.

Here you can meet our pets, take a look at their photos, and also purchase a puppy that you like!

Добро пожаловать на сайт питомника бордоских догов "De Majent"!
Наш питомник начал свою деятельность в 2002. Питомник занимается разведением собак замечательной породы бордоский дог. Бордосы зарекомендовали себя благодаря уму и сообразительности, великолепному темпераменту, преданности и уверенности, бесстрашию и решительности в любой обстановке.

Здесь Вы сможете познакомиться с нашими питомцами, увидеть фото, а также приобрести понравившегося щенка!
Dogue de Bordeaux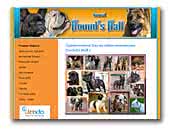 kennel Hound's Hall
Kennel french bulldog & german schepherd dog.
French Bulldog
German Shepherd Dog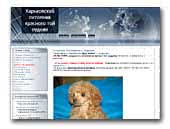 Питомник пуделя Дар Небес
Питомник "Дар Небес" (г. Харьков) занимается племенным разведением карликового и той пуделя современных окрасов.
Poodle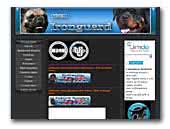 from Ironguard
Kennel French Bulldog and Rottweiler "from Ironguard".
French Bulldog
Rottweiler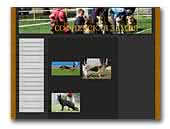 Sofievskaya Zemlya German Shepherd Dog
My German Shepherd Dog - photo, puppys, show ...
German Shepherd Dog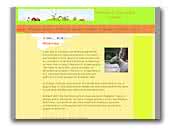 S'AnnyBut Kennel Miniature Bull Terrier
S'AnnyBut Kennel was founded in 2001, and since then we have had six Champions of Ukraine and Russia. Furthermore we have three Young Champions of Ukraine awards. The owner is Anna But . She is a member of Ukrainian Kennel Union. The Kennel is registered in FCI. Anna has started the kennel with AST and ESBT and in 2006 she had her first ESBT litter.

In October 2005 she imported her first female from Korea White Rose of Eugene Bull. In June 2006 another female has been imported from the same kennel. Both females have mainly Australian blood lines.

In March 2007 the first mini boy from Australia kennel "Bullacktiv" came to Ukraine and to the kennel. His name is Chase and he is a very nice Miniature Bull Terrier. I would like to say thank Paulene for letting us have this wonderful boy!!! In November 2007 the kennel had more arrivals from Eugene Bully kennel.
Miniature Bull Terrier
Staffordshire Bull Terrier
« Prev 1 2 3 4 5 6 7 8 9 10 11 12 13 14 15 16 17 18 19 20 21 22 23 24 Next »