Dog Breeders > United Kingdom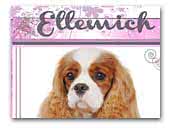 Ellemich Cavalier & Miniature Longhaired Dachshunds
Cavalier & Miniature Longhaired Dachshunds in Essex, UK

I started showing my dogs with my mum when I was a child, and very quickly it took over my life, at that time she owned and showed weimaraners under her own affix of GALRHIA, I handled for a while in the junior handling ring until I gained the confidence and the experience to handle in the adult ring.

The first dog I campaigned myself was a bitch my mum had imported from Ireland a Longhaired weimaraner called Tomirsin Aileen who in her years in the ring was the first ever long haired weimaraner bitch to win a CC and was the top long haired weimaraner bitch for many years. I then went on to campaign many others for her, until she then branched out into Irish red and white setters, this was where many years ago I met Zara my web designer as she was showing the same breed. We were also very lucky in this breed to own CC winners and breed a home bred Champion, Ch Galrhia Kalamity Jane, but during this time in the ring my heart longed for a CKCS as I was lucky to train every week with Veronica Hull (Telvara) kennel and watch her beautiful dogs, I asked my mum if I could have one to which I was told "when you leave home you can" so I did…

I have now owned CKCS for 11 years my first being a pet bitch that I brought from a friend, then I ventured into wanting a nice bitch to start a line with for myself, I was lucky to start my show kennel with my beautiful Cinderlace Amie who will always mean the world to me. The next adventure came along when my mum brought two lovely miniature longhaired dachshunds and as we do decided to have a litter from rolo, producing our first show mini long Ch. Galrhia Icing On The Cake, this year I have taken on joint ownership of my mums affix and will now campaign all our dachshunds under the Galrhia affix.
Cavalier King Charles Spaniel
Dachshund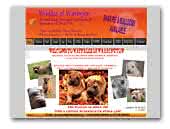 Wrinkles Of Warrington
Kennel Club and established owners and breeders of shar Pei since 2000. All of our Shar Pei are household pets carrying many of the best champion and imported lines.
Shar Pei
Pug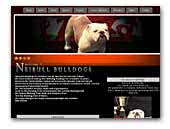 Neibull Bulldogs
Neibull Bulldogs is a Kennel based bulldog breeder based in south wales We have many years experince breeding and showing british and french bulldogs. We breed to the bulldog breed standard, and ensure soundness of health, correct temperament and show quality. All our stud dogs are availble for stud.
English Bulldog
French Bulldog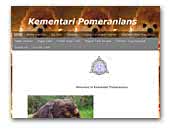 Kementari Pomeranians
Small hobby kennel breeding primarily for the love of the dog and breed. Aiming to produce happy healthy dogs conforming to the breed standard.
Pomeranian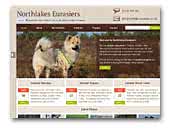 Northlakes Eurasiers
Eurasier breeders based in Carlisle, Cumbria.
Eurasier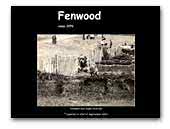 Fenwood
Breeding since 1976 Malcolm @ Theresa Godefroy.
Golden Retriever
Flat Coated Retriever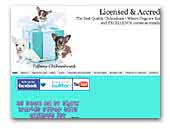 Tiffany Chihuahuas
Top Class Chihuahua Breeder in UK

The Best Quality Chihuahuas - Where Dogs are family not only business! Where Health and Excellence comes as standard, there is no substitute.
Chihuahua
« Prev 1 2 3 4 5 6 7 8 9 10 11 12 13 14 15 16 17 18 19 20 21 22 23 24 25 26 27 28 29 30 31 32 33 34 35 36 37 38 39 40 41 42 43 44 45 46 47 48 49 50 51 52 53 54 55 56 57 58 59 60 61 62 63 64 65 66 67 68 69 70 71 72 73 Next »