Dog Breeders > United Kingdom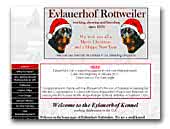 Eylauerhof's Rottweiler
We are not a show Kennel, we believe in the working heritage of the Rottweiler and because of this we enjoy the fulfilment that a competently trained companion brings to our home.

The Kennel was first established in the mid 1970's by Kurt Senior and Hannelore Schwenteck and in the late '70's I took over the kennel from my parents and later moved to England taking my Rottweilers with me. In Germany I was the Trainer and Breedwarden for the BG-Hoyerswege for many years. My first own Rottweiler was Remo vom Hennekamp born in '76. Since then I have owned over 30 Rottweilers and 8 GSD's. My aim is to improve the working ability of my Rottweilers and re-establish the breed as a true working dog. You can find my Wife Jean, my Son Sebastian and Myself training at Bolton Schutzhund Club and AG Warrington every week. I hope you enjoy my website and if you have any questions or comments please let me know.
Rottweiler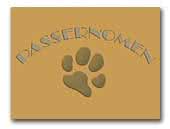 Passernomen Kennel
The Passernomen affix was established in 2008 and it's belongs to Mrs. Joanna Marachowska and Mr. Tomasz Marachowski.

We have in our Kennel Staffordshire Bull Terriers and Shih-Tzus. Our first introduction to the Staffordshire Bull Terrier was in 2007 when we bought our first SBT – Rudy Rio and year later we've started attending dog shows. To be honest we were absolutely impressed with this breed previously, but it took longer time to buy our first stafford.

Our Shih-Tzu we have from 2005, but we are connected with this breed longer time as we have Shih-Tzu's breeders in our family. All of that was an experience which obviously changed to addiction to have dogs in our life and treat them like a real family members.

We are located just outside of Exeter in Devon, where we have lovely place to live with our dogs and opportunity to spend nice time during walks and training with them.
Staffordshire Bull Terrier
Shih-Tzu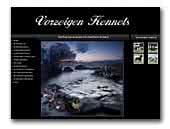 Vorzeigen Rottweiler Kennel
Home of premier bloodlines. Proud to be the 1st Rottweiler Kennel in Ireland to have both owners approved & accepted as Kennel Club Accredited Breeders.

Vorzeigen - Setting the standard in Northern Ireland since 1993.
Rottweiler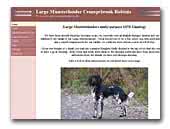 largemunsterlander.co.uk
Large Munsterlander based in West Yorkshire, England.
Large Munsterlander

O'Kinastar
Welcome to kennel O'Kinastar, we are small Alaskan Malamute kennel located in the North of England who enjoy successfully showing and working.
Alaskan Malamute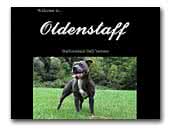 Oldenstaff
Here at Oldenstaff we own and aim to breed Olde Type Staffords that are KC registered fit agile and athletic, I welcome you to come and have a look at the dogs we have so far and to join in on what we believe how a True Staffordshire Bull Terrier should look and we hope will WOW you with there presence, all our dogs are health tested clear from hereditary diseases and will only be bred from to better the breed and to keep this type of sporting dog alive.
Staffordshire Bull Terrier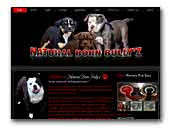 natural born bullyz
NBB'Z are very happy to say that we are the first in England to import bullforce an bullforce blues, we think bullforce olde's are some of the best in the world, we started breeing 9 years ago with our DDBD's and English Bulldogs then after speaking to our good friend mikel in 2008 about bringging bullforce to the uk we took him up on he's offer and not looked back since, we now own 14 outstanding bullforce dogs and couldn't ask for much more, we took our boy bullforce capone to he's first uk show in 2010 and come first place, best in show and best in breed, wow 12 months old, we will be showing and breeding only for the health and well being of our dogs, hope you enjoy our site.
Old English Bulldog
« Prev 1 2 3 4 5 6 7 8 9 10 11 12 13 14 15 16 17 18 19 20 21 22 23 24 25 26 27 28 29 30 31 32 33 34 35 36 37 38 39 40 41 42 43 44 45 46 47 48 49 50 51 52 53 54 55 56 57 58 59 60 61 62 63 64 65 66 67 68 69 70 71 72 73 Next »