Dog Breeders > United Kingdom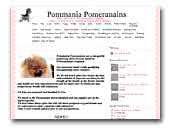 Pommania Pomeranians
Pommania Pomeranians are a top quality producing show kennels based in Worcestershire England.

Our poms are multi Crufts qualifying championship show winners.

We do not breed often but choose the best stud available to improve our lines for the benefit of the health of the breed! Quality and health are very important to us and we make sure we breed for type, temperment, health and soundness.

All dogs are groomed and handled by Zoe.

We breed to the Pomeranian breed standard and our puppies are of the highest quality. We don't have litters often but will sell show prospects to good homes and we will export to other countries with referances.

Take a look around and feel free to ask any questions.
Pomeranian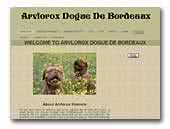 Arvlorox Dogue De Bordeaux
Arvlorox Dogue De Bordeaux please vist our web site for full details of planned litters.
Dogue de Bordeaux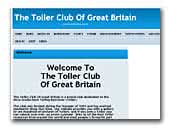 The Toller Club of Great Britain
The Toller Club Of Great Britain is a breed club dedicated to the Nova Scotia Duck Tolling Retriever (Toller).

The club was formed during the Summer of 2004 and has evolved constantly since that time. Our website provides you with a gallery to see hundreds of pictures of Tollers, and if you own a Toller you can submit your own, an event calendar, links to all the best Toller resources from around the world and most peoples favourite part which is a very large, fun, friendly and busy forum with hundreds of members and tens of thousands of posts from all around the world all Talking Tollers !
Nova Scotia Duck Tolling Retriever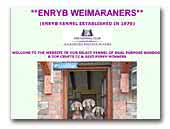 ENRYB Weimaraners
Weimaraners - We are a select kennel producing sound quality dual-purpose weimaraners for the showring and for working homes.
Weimaraner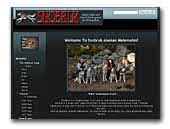 Snobruk Alaskan Malamutes
Snobruk is a small Working/Show kennel based in the UK.
Alaskan Malamute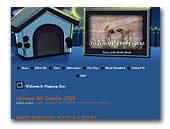 Pagency Leonbergers
Home of the Gentle Giants. The Leonberger is our passion in life and we are now proud owners of our 2 males and 2 females. We show our dogs lighty and they are all highly trained to the British kennel Club Good Citizen standard. We may occasionally have puppies for sale.
Leonberger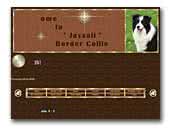 Jaysali Border Collie
Our Border Collie, live in our home with us, the most important thing for us is its beauty, character and health.
Border Collie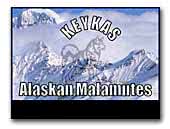 Keykas Alaskan Malamutes
We are starting a new breeding programme in the United Kingdom. Our aim is to perfect the breed and produce healthy show and quality puppies. Feel free to check out our brand new website and to contact us should you wish ...
Alaskan Malamute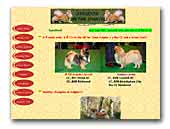 Avigdor Tibetan Spaniels
Top Irish Tibetan spaniels, successful on both sides of the Irish sea and beyond!
Tibetan Spaniel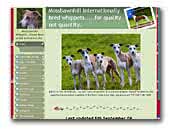 Mossbawnhill Whippets
First and foremost,we believe that whippets should be able to perform the function for which they were originally bred, whilst still maintaining breed type combined with excellent,sound movement.

Mossbawnhill is a small & successful,select "kennel" - we use that term loosely as we do not actually possess any kennels & none of our dogs live outdoors - of whippets and at present one Basenji, our aim is to try and maintain our breed and to strive to produce quality, sound,healthy dogs who are bred for temperament, type and beauty as well as being functional. We are quite unique within the UK & Ireland as we breed a more American/Continental type of whippet, our lines are based on & incorporate some of the top kennels in America, Canada & Europe including Bohem, Lorricbrook,Chelsea, Sportingfields, Starline and Paris (from America & Canada), Airescot, Di Mahana & Woodbrook's kennels (from Europe) and of course our foundation comes from Collooney here in Northern Ireland. The dogs on the following pages are our family, they live in our home with us & sleep in our bedroom,they may not all be showdogs but they are all loving family members.
Whippet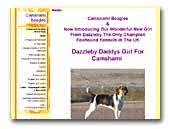 Camshami Beagles
and Dazzleby Daddys Gir For Camshami
The home of the only Kennel Club Registered Foxhound in Wales who has been bred by the only Championship Foxhound Kennel in the country Rosemary Griffiths and the Dazzleby Hounds.
Beagle
Foxhound
.

.