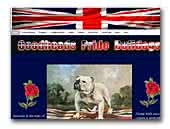 Goodheads Pride Bulldogs
British Bulldog Puppies World Champion Bloodlines

Goodheads-Pride are proud to present these show potential British Bulldog puppies, we have 2 dogs and 4 bitches, these are a fine example of an excellent PEDIGREE bulldog with superb health and great formation, these bulldogs will shine in any ELITE kennel.

All are KC REGISTERED and come with lifetime support, some of the champions in this line include DAWNSTAR LUCCA, BRONZE GLORY OF WENCAR, MERRIVEEN MAKE MY DAY, MYSTYLE GOLDEN WONDER, TERLINGFAIR LORD ARGYIL MYSTYLE, KELLOE KID GLOVE, ESCLUSHAM GOLDEN CHIMES OF WENCAR, ESCLUSHAM SONG OF SIXPENCE.

The sire Golden gloves is the son of Celticpride Ginger Spice and British Gladiator Supernova Made of Gold this pedigree contains some of the best bulldogs ever bred here in the UK including Britishpride Power 'n' Glory, Britishpride Philosophy top UK brood bitch WORLDCHAMPION MYSTYLE GOLDEN WONDER, in 2002 he became UK Champion. All puppies will receive a full health check, worming, insurance cover and come with a starter pack to get you up and running.

Please see Goodheads Pride Bulldogs website for more details, feel free to email me or call Jonathan ...
British Bulldog