Dog Breeders > United Kingdom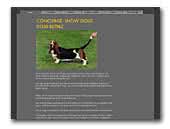 Concierge Basset Hounds
Hello and Welcome to Concierge, I have been involved in the world of dogs for 16 years Showing, Breeding and Obedience, I live in the uk in Leicestershire where I own a small boarding kennels.

I am very happy to talk and give advice on the breed to anyone thinking of owning a Basset Hound, Chihuahua or Pug, I do occassionally have puppies available to loving family homes. While I am Aiming to breed something for the Show Ring I keep to the front of my mind that most puppies are much loved family pets.

We strive to breed quality dogs of sound body and mind weather it be a potential show dog or a family companion, our dogs are much loved family pets first. All our Dogs are reared in a family environment, to ensure that they are well socialised.

The health, comfort and happiness of my dogs are my main priorities. No time, effort or expense has been spared to provide a clean and loving home for them. my puppies are Kennel Club Registered fully wormed and are raised in a loving, family environment. I am available at all times to offer help and advice to the new owners of my puppies.
Basset Hound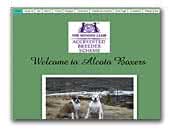 Alcoto Boxers
Small boxer dog breeding kennel, all dogs heart tested clear. Puppies occassionally to loving homes.
Boxer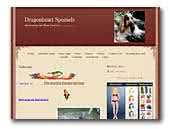 Dragonheart Spaniels
Owner of Show type English Cocker Spaniels, We compete in Agility, and Show our dogs at open shows, We occasionally have litters. All of our dogs are health screened for Pra, Fn, Gonioscopy, Eye tests, hip Dysplacia.
English Cocker Spaniel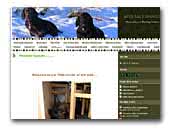 Woolbails spaniels
Based in the north east of england, we compete in agility and take part in gundog tests, breeder and owner of Working type cocker spaniels. All health checked dog's. Pra, Fn, Gonioscopy Bva/Kc eye tests, Hipscored. We occasionally breed from fully health screened parents.
English Cocker Spaniel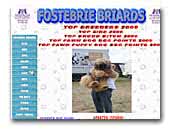 FOSTEBRIE Briards
Top UK Breeders 2009.
Briard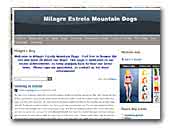 Milagre Estrela Mountain Dogs
We are a small Estrela kennel based in the North West of England.
Estrela Mountian Dog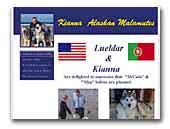 Kianna valley Alaskan Malamutes
Fun loving family show team.
Alaskan Malamute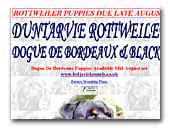 Duntarvie Rottweilers,
Dogue De Bordeaux and Black Pugs
A family show kennel, breeding for true type, temperament and health. All our animals are adored members of our family and as such, although living in kennels, enjoy the freedom our home, with long periods of free running, play and constant interaction all our dogs are happy, healthy and of outstanding character.
Rottweiler
Dogue de Bordeaux
Pug
« Prev 1 2 3 4 5 6 7 8 9 10 11 12 13 14 15 16 17 18 19 20 21 22 23 24 25 26 27 28 29 30 31 32 33 34 35 36 37 38 39 40 41 42 43 44 45 46 47 48 49 50 51 52 53 54 55 56 57 58 59 60 61 62 63 64 65 66 67 68 69 70 71 72 73 Next »