Dog Breeders > United Kingdom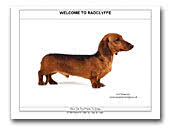 Radclyffe
The website where more information can be obtained on the status of GPRA in Miniature Smooth Dachshunds, forms to submit clear animals and request lists of clear animals.

This is the first website for Edwards Jones MSc, his dogs and his specialist Orchid growing. Pleae visit the site to learn more or obtain forms.
Dachshund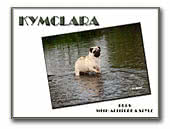 Kymclara Pugs
Kymclara is not a new affix, it originated with Staffordshire Bull Terriers well over 20 years ago.

It has recently been re-introduced by the same family as a Pug kennel, whom are acheiving great things with the breed. Take a Tour of the website, and enjoy the attitude and style of the Kymclara Pugs.
Pug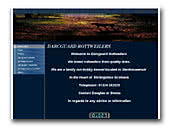 Darcguard Rottweilers
We Are A Small Hobby Kennel Located In The Heart Of Scotland. We Pride Ourselfs In Providing Quality Dogs With Outstanding Temperments. Training & Advice Is Available For The Life Of Any Dog Sold By Ourselfs.
Rottweiler

XSBT
A quality Breeder of show standard Staffordshire Bull Terriers !
Staffordshire Bull Terrier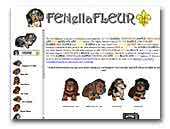 FENellaFLEUR
Miniature Long Haired Dachshunds
We love Miniature Long haired Dachshunds particularly the silver dapple, chocolate dapple, chocolate and tan and black and tan varieties.

Pups from our litters are normally made up from silver dapple, chocolate dapple, chocolate and tan, black and tan varieties. To learn more about us and our Miniature Long haired Dachshunds please visit our web site.
Dachshund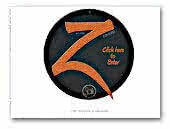 Zarcrest Show Dogs
Welcome!

We hope you enjoy your visit and call back soon,
We have been involved in the world of dogs since 1968, something of a lifetime that we never expected and yet our passion is still as strong as it was then ...

Zarcrest is primarily an experienced Hound hobby kennel, having made up Champions covering four breeds within that group,

It is currently active and highly successful in the two longhaired dachshund varieties, Zarcrest covers three generations of humans with the younger member exhibiting Gundogs.

Want to Learn more? ... Then Enter The Website

Will Harris is one of the Our Dogs principal photographers covering major championship dog shows and canine events in the UK, Will also builds websites both flash or static and specializes in advert design, his repositary for his work is known as Snap An Image...We have put together a small amount of information here, for you to get a better idea of what we do.

Want to Learn more? ... Snap Am Image
Dachshund
Irish Red Setter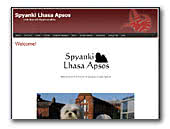 Spyanki Lhasa Apsos
The home of Spyanki lhasa apsos based in North Lanarkshire, Scotland.
Lhasa Apso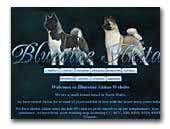 Bluevine Akitas
Show kennel based in Wales, breeding type, quality and substance.
American Akita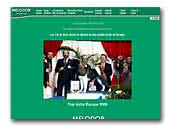 Melodor Akitas
One of the Top American Akita Kennels in the UK, producing Champions Worldwide.
Akita (American)
« Prev 1 2 3 4 5 6 7 8 9 10 11 12 13 14 15 16 17 18 19 20 21 22 23 24 25 26 27 28 29 30 31 32 33 34 35 36 37 38 39 40 41 42 43 44 45 46 47 48 49 50 51 52 53 54 55 56 57 58 59 60 61 62 63 64 65 66 67 68 69 70 71 72 73 Next »