Akita Inu / Akita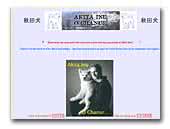 Elevage O Chanur - Akita Inu Kennel
Une éleveuse diplômée d'Etat vous fait partager sa passion pour ce superbe chien japonais: + de 1300 photos de mes Akita, vidéos, news 2 fois par mois, forum Akita et chiens du Japon, etc. Chiots Akita Inu toutes couleurs, LOF, identifiés, sociabilisés, haute sélection. (SIRET : 50094984700015) Conseils sérieux et suivi à vie. Etalons roux ou bringés dispo pour saillies.

A professional dog breeder in France, specialize in Akita Inu. lot of references in Akita breeding, akita showing. Akita Inu: A real passion, my real life!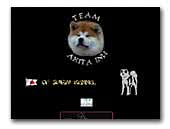 Of RamsRaspel Kensha - Team Akita Inu
Team Akita Inu-Of RamsRaspel Kensha,
The best Japanese bloodlines from JAPAN !
FCI European Winner 2004,2005,2008.
Akita Cup Winner 2006.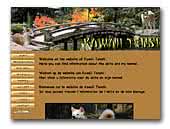 Kawaii Tenshi
I am very passionated about the akita inu, my dogs are very important to me. I handle them with respect, patience and lots of love. They are living inside with me and are very well socialized with other dogs and little children. I will be breeding a litter now and then in the future where their health, character and beauty will be very important to me.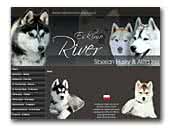 Eskimo River
Serdecznie witam na stronie Hodowli Eskimo River poświęconej wspaniałym psom zaprzęgowym Siberian Husky oraz japońskiej rasie Akita. Życzymy miłego ogladania.

Welcome to the website breed Eskimo River dedicated wonderful sled dogs Siberian Husky and japanese breed Akita. We wish a nice watching.

Herzlich Willkommen auf der Website Eskimo River,die sowohl den groSartigen Schlittenhunden Siberian Husky, als auch der japanischen Rasse Akita gewidmet ist. Wir wunschen euch viel SpaS beim anschauen.
Siberian Husky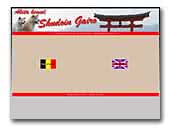 Shudoin Gairo - Akita breeder
The meaning of our website is to inform you about the breed that stole our hearts, "the Akita" .We would like to tell you something more about our own dogs.

We will always make sure that we make the right combinations, before we start breeding and we well only breed following the guidlines of KMSH and the Belgian Akita Club.

Our puppy's will be born and raised indoor, so they are used to the most frequent noises of an household when they leave the nest. We will also familiarize the puppy's with other important things such as people, children, cars, bikes and other animals.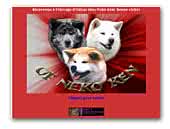 of Neko-Ken Akita Inu
Eleveur passionné d'Akita Inu depuis 1992. Nos bébés sont élevés en famille.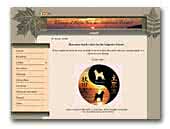 Elevage d'Akita Inu des Seigneurs d'orient
Nous vous invitons à venir découvrir cette superbe race, nos chiens, nos chiots et notre élevage.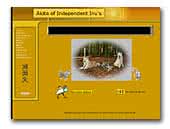 of Independent Inu's - Akita
We live together with our 6 dogs in our house and garden (3male/3 bitches) and like this way of living very much. The natural way of this special kind of dogs is our passion. We like to share this awesome relationship between dogs and their owners-therefore we breed this fantastic dogs. Hoping to share this feeling with other akita-lovers once Akita - again and again Akita.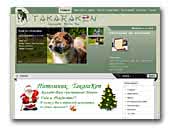 TAKARAKEN Kennel - Japanese Akitas
TakaraKen kennel has been breeding the Japanese Akita brindle and red color. DogShow - Puppies - Photos - News.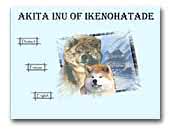 OF IKENOHATADE - Team Akita Inu
Team Akita Inu - Of Ikenohatade. We breed only with the best Japanese bloodlines!!

In our kennel are FCI World Winner 2009, Akita Cup Winner 2006, 2007, 2009.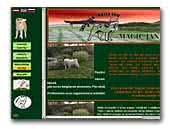 MAGIC JAN Akita-inu kennel
We are a Akina-inu lovers from Latvia. We have excelent quality japan akitas! Akita-inu puppies are best show breeder puppies, with ideal characteristics, temperament, good friend and family member. There are with work diplomas and participates in work class rings (competitions). Please visit our website for more information.