Alaskan Malamute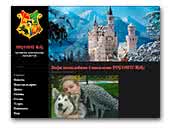 HOGVARTZ MAG Kennnel
Alaskan Malamutes
Kennel for Alaskan Malamutes in Russia.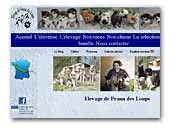 Elevage de Prana des Loups
Welcome to our kennel "Prana des Loups" ! Breeding is foremost a whole story of passion. I am currently specialised in two breeds of dogs: Alaskan Malamute and Eurasier. Why? ... passion, what else.. My dogs live together, with me and my cats in our house in the mountains (Savoie, France) near Switzerland.
Eurasier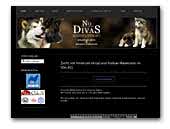 No Divas Alaskan Malamutes
& American Akitas VDH/FCI
Wir sind ambitionierte Züchter und Aussteller der Rassen Alaskan Malamute und American Akita und vereinen beides unter dem Kennelnamen "No Divas". Wir leben in Deutschland in der Nähe des Nürburgrings. Unsere Hunde sind Teil unserer Familie und teilen Haus und Garten mit uns.

Unsere Verpaarungen werden sorgfältig geplant, um eine bestmögliche Qualität bei den Welpen zu erreichen, was Gesundheit, Charakter und Rassestandard angeht. Die Welpen werden mit VDH/FCI Pedigree abgegeben. Wir sind Mitglied im DCNH e.V. und Akita Club e.V. . Wir legen großen Wert auf gute Sozialisierung der Welpen. Wir freuen uns über Ihr Interesse!
American Akita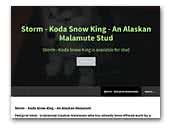 Storm - Koda Snow King
an Alaskan Malamute
A Site dedicated to Storm - a superb Pedigree Alaskan Malamute - 3 years old. Superb posture and balance. Wonderful character. Wonderful with children of any age.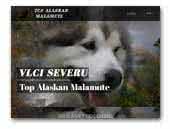 Vlci severu
Home malamutes since 1989 Top Alaskan malamute and Greenland dog . Among many distinctions, we provided European sleds Champion 2005, European Junior Winner 2005, World Winner 2006, European Winner 2007 kennel was founded in 1994.

I wish you a pleasant stay on my site . If you are interested in a puppy with pedigree please visit the coverage section to find out where the guys of our puppies and of course watch our news.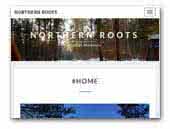 Northern Roots
Hej and welcome to our website, where you can find lots of informations about our Alaskan Malamutes and the daily life with the pack. Maybe you know us from instagram (malamutenorthernroots), from shows or from the diffrent types of sport, we do. Visit our site and say #hello.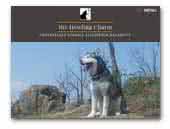 the Howling Charm
Alaskan malamute kennel in Czech Republic.




.

.