American Staffordshire Terrier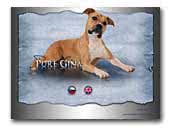 Pure Gina kennel
American Staffordshire Terrier kennel PURE GINA.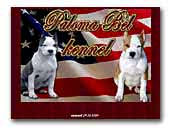 Paloma Bell kennel
My name is Davor Matokovic and animal helath is my profession. Love for dogs I started to show already when I was a child, so I got my first dog when I have decided to throw away my nipple. That was a little basset puppy. After him I have had a few different breeds of dogs, but the German Shepherd dog spent the longest time at my home. Unfortunatelly, he was for a long time very, very ill so he died.

... One year later came to my home female black and white American Staffordshire Terrier puppy which I have called Elena. From the first day, she has captivated hearts of all my familly, especially my mother's. My mother helps me the most and without her all this couldn't be possible. Some time after Elena, to my home came two dogs more, again American Staffordshire Terriers, of course. Female I called Dona and male I called Tango. Breeding station dogs I registered 2006. under name "Paloma Bel" under number F.C.I. 35/06.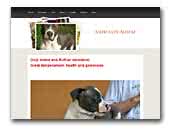 Ashwood's amstaff
American staffordshire kennel in italy. Only woods and ruffian bloodline.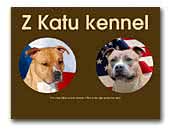 Z Katu
We are Amstaff's FCI Kennel from czech Republic. Our goal is to breed secure, healthy, stable and exterior beautiful dogs.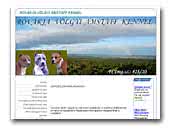 Rovákja völgyi kennel
Quality American Staffordshire dogs.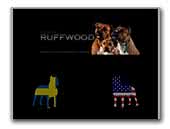 Kennel RuffWood
Welcome to kennel RuffWood! At our website You can find information about us and our dogs, look at the pics in our gallery and leave a greeting in our guestbook. You can even find some information about American Staffordshire Terrier.

RuffWood is a small kennel in Northern Sweden. The persons behind RW are Olga Isaksson and Daniel Granbom. Dogs are our biggest common interest and we have always have dogs by our side. We put a lot of time and consideration on training our dogs and we spend a lot of time with whem. Our dogs live with us as family members. Our kennel is approved by FCI and we participated in Swedish Kennel Club's Breeder Education. Olga works as ring secretary at dog shows and she is soon a fully educated basic obedience trainer at Swedish Working Dog Club. She is also active within Swedish Kennel Club - at Terrier Club and American Staffordshire Terrier Club of Sweden.

Our dogs live an active life, we are training blood tracking, obedience, Weight Pull and even agility and searching with them. We are fond of dogs shows and we show our dogs frequently at CAC, CACIB and Club Shows. Olga is a handler as well and she shows American Staffordshire Terriers, Staffordshite Bullterriers and some other breeds.

Our goal is to produce Am.Staffs who are typical, both mentally and exteriorly, sound and healthy, and who suit to both dog shows and working trials/competitions.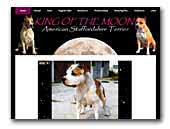 King of the Moon Amstaff Kennel
We have been breeding Amstaffs since 1999. It will be a pleasure answer your questions and help you to find a new friend. Socialization is very important for us. We select our dames and sires by genealogy, beauty and temperament.

KING OF THE MOON AMSTAFFS
Quality, healthy and competence.
.

.