American Staffordshire Terrier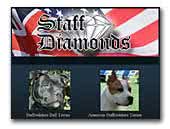 Staff Diamonds
Welcome to Staff Diamonds Kennel
We select the best breeding dogs of American Staffordshire Terrier and Staffordshire Bull Terrier and produces puppies of high quality.

Our dogs are registered with pedigree at the Greek Kennel Club (KOE) in accordance with FCI specifications.
Staffordshire Bull Terrier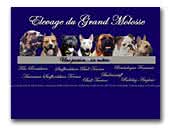 Elevage du Grand Molosse
Elevage du grand molosse dans les vosges en lorraine propose chiots fila brasileiro, bull terrier, amstaff, staffordshire bull terrier, bulldog anglais et bouledogue français.

Touts nos chiots sont vendus pucés, vacinés, inscrit au LOF et accompagné d'un certificat véto.
Staffordshire Bull Terrier
Bull Terrier
French Bulldog
English Bulldog
Fila Brasileiro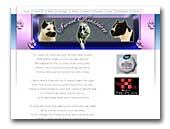 Sweet Obsession
Sweet Obsession Kennel- American Staffordshire Terrier & Portuguese Water Dog. Located in Croatia.
Portuguese Water Dog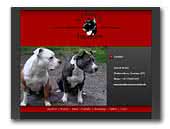 X-CESSIVE VOLITION
American Staffordshire Terrier
Solid old bloodlines.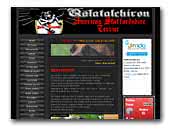 QALATALCHIRON
American Staffordshire Terrier
Allevamento per la selezione caratteriale e morfologica dell'American Staffordshire Terrier. I nostri soggetti sono controllati per cardiopatie, oculopatie e displasie ereditarie, sono atleti e trattati da sportivi fin dalla nascita, hanno grande successo in expo e vivono la loro vita liberi di correre e cacciare, senza essere chiusi in box in attesa della prossima expo. fin dalla nascita sono condizionati con Bio Sensor Program e vengono abituati durante la crescita a socializzare con altri animali e cani, amstaff e non, a restare indifferenti alle auto, ai botti, ai rumori, il tutto per renderli adulti e equilibrati e coraggiosi.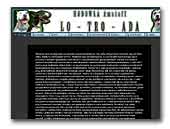 Kennel Lo - Tro - Ada
Dear Bull type terriers' lovers, by this way we are pleased to show our kennel which arose in our thoughs at the time when we started showing our first female, Karmen Bu-Am-Sti, bought in 2004. In 2006 we obtained FCI Kennel Name and nickname registery number. Up to this day Karmen has been the best mother for puppies in our kennel. Successively we bought females Holli and Roxy, after which, for breeding porpouses, we left Ramisa - a beautiful female of red coat with white marking. Our last purchase is bullterrier Sonia Bulova /Nebezpieczne Zwiazki (Dangerous Relationships)/.

Our dogs won first places, CWC and probably many would have won the Champion title, unfortunately for health problems of the breeder and only one driver we gave up our outbursts. However we do not complain, we have beautiful females which give lots of joy and give birth to beautiful puppies from matings that are well thought out.

Our females are mated with dogs that have Ch.Pl, Inter.Ch. title and with those not titled, but which pedigree records can assure us puppies with good exterior qualities.

Greetings to all Amstaff, Bull Terier and all other dogs' lovers.
Bull Terrier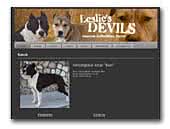 Leslie's Devils
American staffordshire terrier kennel Hungary.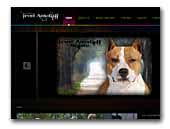 Iron Amstaff Kennel
American Staffordshire Terrier Kennel from Croatia.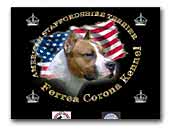 Ferrea Corona Kennel
Welcome to our website!

We are Ljiljana and Krunoslav Posavec. We always admired the grace and affection of American Staffordshire Terriers, so we decided to get one. We bought our first staffordshire terrier in 2006. It was a beautiful male MC Bronx. He became a member of our family.

Later MC Bronx got company, female Sui, then we decided to breed American Staffordshire Terriers. We received our kennel name in 2008.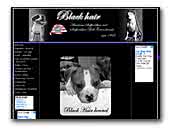 Black Hair Amstaff & Staffbull Kennel
High qualitative breeding in Hungary! Show and breed quality puppies for sale!
Staffordshire Bull Terrier
« Prev 1 2 3 4 5 6 7 8 9 10 11 12 13 14 15 16 17 18 19 Next »