Australian Shepherd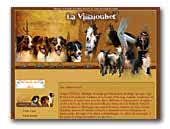 Berger Australien DE LA VILLA LOUBET
Elevage familial située en France dans le Lot.

Australien Shepherd Breeder, we live in France near from Cahors (Lot).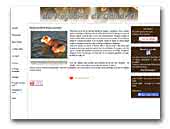 Le Royaume de Galadriel
Australian shepperd breeder in Britany, France.

Elevage familial de Bergers Australiens. Nous sommes situés en Bretagne, à Marzan, près de La Roche Bernard. Cet élevage est un petit élevage amateur (amateur dans le sens non professionnel), désirant produire de beaux et bons chiots, dans le respect de l'animal et de la nature. (Chez nous les chiens ne connaîtrons jamais la vie en chenil, queues et ergots ne seront jamais coupés et ils sont nourris avec des croquettes écologiques Amikinos)... .

Dali notre chienne est arrivée en Février 2008, à l'âge de 3 mois. Elle habite dans la maison avec nous, nous suit partout lors de nos balades et voyages, a fait des expos, a montré des aptitudes au travail sur moutons lors d'un stage "troupeau", fréquente le club de dressage, et surtout fait des promenades régulières à la plage, en forêt, en ville, etc...

C'est une chienne super gentille, qui a toujours un oeil sur son "troupeau"  (sa famille : nous et nos enfants,, les poules, les chevaux, le chat...).

Comme nous la trouvons exceptionnelle, c'est tout naturellement que nous avons eu envie de faire un peu d'élevage pour que ses qualités se transmettent.


du Val d'Aury
Elevage passion et familial, situé dans le sud de la France, près de Toulon.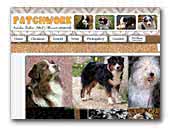 PATCHWORK Kennel
Allevamento Amatoriale dell' Australian shepherd e del Bobtail. Alleviamo con vera passione, selezionando per tipicita, salute e carattere.I nostri riproduttori vengono testati per le displasie e le oculopatie.

Amateur Breeding of 'Australian shepherd and Bobtail. We breed with passion, typical for selecting, health and carattere.I our breeders are tested for dysplasia and oculopathies.
Bobtail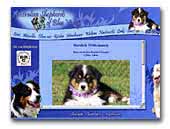 of Blue Valley Australian Shepherd's
Wir züchten gesunde und Wesenstarke Australian Shepherds. Wir haben 1-2Würfe im Jahr und die Verpaarungen werden genaustens überlegt. Unsere Hunde sind mehrfach Champions und entsprechen voll dme Rassestandart.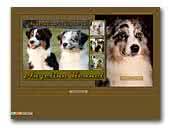 ANGELINA Kennel
Selective Australian Shepherd breeding in Italy. Photos, information and pedigrees about our beloved Aussies.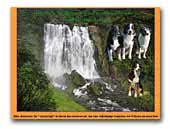 Wild Divine Australian Shepherds
Breeder of Australian Shepherds from working lines since 1996 (VDH / FCI). Our offspring successfully trained for herding, in every variety of dog sports, especially agility, and are used as therapy and rescue dogs.

Des Champs de l'Aigue
Elevage de bergers australien
Elevage de bergers australiens situé dans le centre de la France. Tous nos chiens sont testés pour la dysplasie des hanches et dépistés régulièrement des tares oculaires. De plus tous nos chiens sont testés génétiquement et indemnes du HSF4, AOC, APR prcd et MDR1.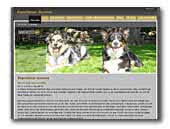 Kapellener Aussies
Australian Shepherd Deckrüde, aus Arbeitslinien, CASD / VDH registriert, beste Gesundheitsauswertungen, Sein Vater ist erfolgreichim Hüten u. die Mutter im Agility. Mit sehr viel Will to Please. Seine Geschwister werden ebenfalls vielseitig und erfolgreich eingesetzt im Hüten, jegliche Art von Hundesport u. auch als Therapie und Rettungshund.

Master Shepherd - Australian Shepherd & Jack Russell Terrier
Allevamento amatoriale di Australian Shepherd e Jack Russell Terrier e hotel a 4 zampe, tra i colli della Riviera Berica, a Vicenza.
Jack Russell Terrier

Kati-vlčí mak
A small kennel with quality dogs in which health, temperament and fitness has the highest priority!
German Shepherd Dog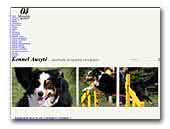 Ausytė - Australian Shepherd kennel
Aussies for shows and working! Australian Shepherd dog kennel in Lithuania. These dogs are perfect for agility, flyball, obedience... The best friend and companion you could ever find! For more information please contact us via e-mail.
.

.