Berger Blanc Suisse / White Swiss Shepherd Dog
Weiße Schäferhunde / Weisser Schweizer Schäferhund / Pastor Blanco Suizo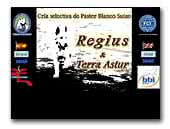 REGIUS Cría selectiva del Pastor Blanco
Somos un criadero familiar del antiguo Pastor Alemán Blanco (AKC) o Pastor Blanco Suizo para la FCI desde 2003.

Criamos de forma muy selectiva unas pocas camadas al año, todas de gran calidad. Nuestros perros provienen de las mejores líneas de Europa y América con múltiples campeones en sus pedigrees y varios con nivel de adiestramiento máximo Sch3 IPO3. Además han pasado los estrictos controles del Club de Raza CEPBS para lograr el "Apto para Reproducción", están libres de displasia tanto de cadera como de codos, y la mayoría ya han ganado exposiciones o eventos caninos desde cachorros con excelentes valoraciones por jueces internacionales.

Pero lo más importante es que por nuestra forma de criar y el tiempo de calidad que les dedicamos, entregamos cachorros muy bien socializados, alegres y con un carácter excepcional, muy equilibrados, avalados por decenas de amigos que ya tienen un cachorro nuestro por toda España y que algunos incluso nos han pedido un segundo ejemplar con el tiempo.

Si deseas más información de la raza, conocernos o reservar un cachorro, no dudes en llamarnos o escribirnos un email y con gusto nos pondremos en contacto.

Un saludo.... Pablo y Ali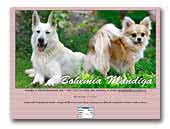 Bohemia Mandiga
Chihuahuas & White Swiss Shepherds
Traditional family kennel, founded 1992 of White swiss shepherds and chihuahuas. Big photoworld ! Welcome :)
Chihuahua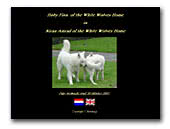 Hoby & Amrad
Hoby is a verry beautifull FCI studdog from the Netherlands. He lives with his son Amrad. Both dogs have a great character, verry black pigmentation and in good health.

Sometimes Hoby will be mate with a suiteble healthy female.




Van Vlerckensteyn
White Swiss Shepherd Dogs & Chihuahua's
Everything about our White Swiss Shepherd Dogs and Chihuahuas with lots of pics. Updated every week. From time to time puppies.
Chihuahua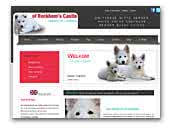 of Reckhem's Castle
Swiss White Shepherds
Breeder of Swiss White Shepherds. We are affiliated with several kennel clubs. Our breeding dogs are checked for HD, ED, MDR1, CE / spondylosis, deafness (BAER test), hereditary eye diseases and DM (Degenerative Myelopathy). There are namely more DNA tests, allowing us to detect certain abnormalities. Not all of these health checks are mandatory in accordance with the requirements of the KMSH and breeding rules, but in the interest of the breed, I find it important to have knowledge about the health.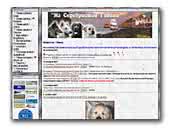 kennel IZ SEREBRISTOY GAVANY
Our dogs, puppies, fotoes.
Belgian Shepherd Dog
Labrador Retriever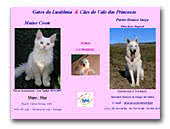 Vale das Princesas
White Swiss Shepherd portuguese breeder.