Berger Blanc Suisse / White Swiss Shepherd Dog
Weiße Schäferhunde / Weisser Schweizer Schäferhund / Pastor Blanco Suizo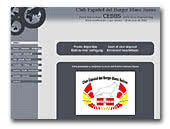 Club Español del Berger Blanc Suisse
(CEBBS) Pastor Blanco Suizo
Club Español del Berger Blanc Suisse -  CEBBS

(E) CEBBS se funda para proteger y mejorar la raza del Berger Blanc Suisse (perro de Pastor Blanco Suizo) en España generalmente y la supervivencia y la mejora de la versión de pelo (corto) medio particularmente. El CEBBS quiere alcanzar estas metas consiguiendo en la ayuda de un grupo de criadores (FCI) extranjeros seleccionados  de todo el mundo.Por utilizar su conocimiento y experiencia para esta raza de perros maravillosa en España

(P) CEBBS foi fundado para proteger e melhorar a raça Berger Blanc Suisse (Pastor Branco Suíço) na Espanha em geral, e em particular na sobrevivência e melhora da versão de pelo médio (Curto). O CEBBS quer alcançar estas metas conseguindo a ajuda de um grupo de criadores (FCI) estrangeiros selecionados por todo mundo,utilizando seus conhecimentos e experiências para esta raça de cães maravilhosos na Espanha

(GB) CEBBS is founded to protect and improve the breed of the Berger Blanc Suisse (White Swiss Shepherd Dog) in Spain in general, and the survival and improvement of the medium (short) coated version in particular. The CEBBS wants to achieve these goals by getting in the help from a selected group foreign FCI breeders from all over the world to use their knowledge and experience for this marvelous breed of dogs in Spain.

(F) CEBBS est fondés pour protéger et améliorer la race du Berger Blanc Suisse (chien de Berger Blanc Suisse) en Espagne généralement et la survie et l'amélioration de la version de poil court particulièrement. Le CEBBS veut atteindre ces objectifs en obtenant dans l'aide d'un groupe eleveurs (FCI) d'étrangers choisis de par tout le monde utiliser leur connaissance et expérience pour cette race du chiens admirable en Espagne.

(D) CEBBS ist gegründet worden, um die Rasse des Berger Blanc Suisse (Weisse Schweizer Schäferhund ) zu schützen und zu verbessern in Spanien im Allgemeinen Und das Überleben und die Verbesserung von der Stokhaar Version insbesondere. Das CEBBS möchte diesen Zielen erzielen, durch die Hilfe von eine ausgewählten Gruppe FCI Zwinger von über die ganzen Welt, um ihr Wissen und Erfahrungen für diese erstaunliche Hunde Rasse in Spanien zu verwenden

(NL) CEBBS is opgericht ter bescherming en verbetering van de Berger Blanc Suisse (Zwitserse Witte Herder) in Spanje in het algemeen.En tevens willen wij de survival en verbetering bewerkstelligen van de stokhaar (kort) versie in het bijzonder. Deze doelen willen wij bereiken door de hulp in te roepen van een groep geselecteerde FCI fokkers van over de gehele wereld, en zo gebruik te maken van hun kennis en ervaring ter verbetering van dit geweldige ras in Spanje.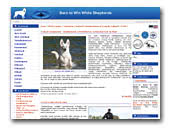 Born to Win White Shepherds
We are breeding intelligent, highly trainable, watchful and extremely loyal dogs with a purpose in life - Born to Win! You are welcome to the homepage of the Intelligent, Loyal, Versatile and Noble - the White Shepherd! The dog that simply catches eye with it's impressive look and wins hearts with it's joyful temperament for people that are looking a lifetime friend and family member eager to work, easy to train and quick to learn.

With the hope that man may learn love through the eyes of his dog ...
Born to Win White Shepherds - Home of the Smiling Dogs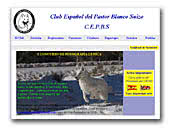 CLUB ESPAÑOL DEL PASTOR BLANCO SUIZO
El Club Español Del Pastor Blanco Suizo (CEPBS) ha sido fundado en noviembre del 2005 para proteger y mejorar la raza del Berger Blanc Suisse en España  y ha sido reconocido por el ministerio del interior español bajo el numero 1949 el 5 de febrero del 2006.

Sus estatutos han sido aprobados y avalados para dicho ministerio, y hoy en día (7 DE JULIO DEL 2008)es el único club de pastor blanco suizo  en España a tener esta homologación.

El CEPBS ha sido reconocido por el club internacional del berger blanc suisse  BBI, en diciembre de 2006 y también es el único club de pastor blanco suizo  en España a tener esta homologación.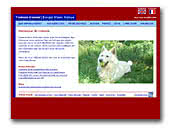 OF TREBONS Berger Blanc Suisse
Small kennel breeding TOP quality Berger Blanc Suisse for show and family compagny.

Our motto is : "A tail ahead of the rest"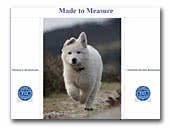 Made to Measure
Berger Blanc Suisse from very socialiced home -for show, family and working.