Berger Blanc Suisse / White Swiss Shepherd Dog
Weiße Schäferhunde / Weisser Schweizer Schäferhund / Pastor Blanco Suizo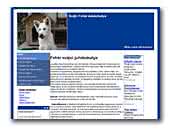 White Lupus Silicis kennel
If you like white sheperds visit this site.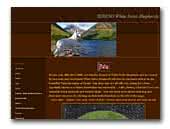 Sereno White Swiss Shepherds
Sereno is a hobby kennel of White Swiss Shepherds/Pastor Blanco Suizo.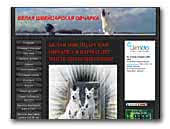 white-swiss-shepherd.jimdo.com
Züchter von Weiße Schweizer Schäferhunde in der Region Altai! Beste Hund der Altai-Region hat die besten Aussichten, als bester Welpe der Rasse anerkannt! Geboren, um der Beste zu sein! Und im Moment ist die in der Altai-Titel!

Breeder of White Swiss Shepherd Dogs in the Altai Territory! Best dog in the Altai region has excellent prospects, recognized as the best puppy of the breed! Born to be the best! And at the moment is the most titled in the Altai!

Питомник Белых Швейцарских Овчарок в Алтайском крае! Лучшие собаки в Алтайском крае, имеет отличные перспективы, признаны лучшими щенками своей породы! Рождены стать лучшими!!! И на данный момент является самыми титулованными на Алтае !!!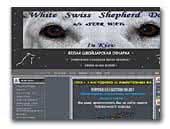 STAR WAY ROYAL
Предлагаем к продаже отличных щенков п-ка «STAR WAY ROYAL» для души, дрессировки, охраны и выставочных побед от чемпионов и лучших производителей СНГ и Европы, кровей: России, Польши, Словакии, Америки, Чехии, Боснии и Герцоговины, Франции. Щенки с задатками отличного экстерьера и рабочими качествами.

Нашим питомцам мы предоставляем всестороннюю помощь в воспитании, выращивании, дрессировке и выставочной карьере. Для вязок предлагаем титулованных кобелей.

На нашем сайте вы узнаете все о породе, все, что касается наших собак - это о наших достижениях, щенках, вязках; познакомитесь с нашими детишками и родственниками; почитаете полезные статьи о выставках, о содержании и воспитании щенка и много другое, что связано с собакой.



MIGHTY MIDGET
We breed only on occasion with our girls who are in Excellent condition and full of caracter. We breed according to the rules of the ZWHVN & BTCN.(FCI) Beautiful, Healthy Puppies Expected In Januari 2011!!! Both parents are HD-A,ED-FREE MDR1-FREE !!
Boston Terrier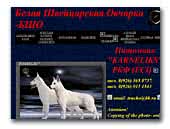 Питомник KARNELIKS РКФ (FCI)
Kennel - "Karneliks", breeding of Swiss white shepherds. Our breeding results in healthy, and show dogs.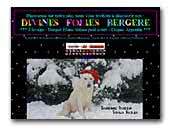 Kennel Divines Folies Bergère
Welcome on the site of our breeding "Divines Folies Bergère". We raise White Swiss shepherds short hair. All our dogs are radiographed for the dysplasy of the hips and elbows. They have their test MDR1 and DNA. They work in obedience, french ring and mondioring (protection training). They are also tested with the sheep. They also go some show of beauty.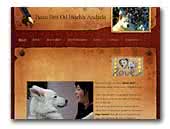 Beau Brit Od Bijelih Andjela
FCI Stud dog, Ch Beau Brit Od Bijelih andjela - beautiful swiss white shepherd and his progeny.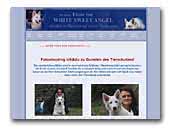 Zuchtstätte White Sweet Angel
Wir Züchten seit 2005 Weisse Schweizer Schäferhunde (Berger Blanc Suisse) mit RWS/VDH Papiere. Besuchen Sie uns auf unserer HP und überzeugen Sie sich von den Hunden und Welpen, die bei uns wohnen.Von unsere Zuchtstätte gibt es auch Welpen im Ausland ( Schweiz, Finnland ).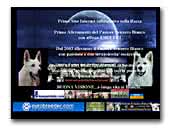 cortedelfinibianchi.com
The 1° Italian Site on the White Swiss Shepherd Dog

Realized in 2003 with a large collection of informations in Italian language on the origins, on the stages for the FCI-recognition, on the morphological and personality feature dictate from Standard 347 + database and photos of our subjets. We are an Italian family breeder that breed the WSSD in professional way from 2003.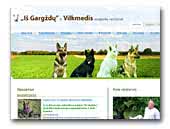 Veislynas IŠ GARGŽDŲ
Iš gargždų, aviganiai, šveicarų baltasis aviganis, rytų europos aviganis.
German Shepherd Dog
« Previous 1 2 3 4 5 6 7 8 Next »