Berger Blanc Suisse / White Swiss Shepherd Dog
Weiße Schäferhunde / Weisser Schweizer Schäferhund / Pastor Blanco Suizo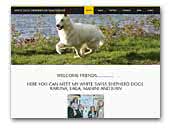 skahdakota.com
Puppies from Juan of Skah Dakota x Karuna of Skah Dakota Out of this combination, we expect healthy, medium-sized, well-built puppies with exellent pigmentation. Both of the parents have stable characters, good working abilities and perform excellent at shows. We hope the puppies will inherit exactly these qualities. For more informations you can contact me under...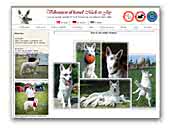 Kennel Made to Joy
Small family breeder of White Swiss Shepherd Dog (FCI) since 1999 We breed only health check dogs with good temperament. Our dogs are exhibited, trained and live in the house with us as spoiled living dogs. We breed only a few litters.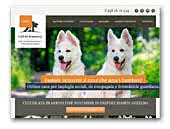 LUPI DI ROMAGNA
Lupi di Romagna è un allevamento di Pastore Svizzero che dedica particolare attenzione alla selezione e alla crescita di cuccioli morfologicamente in standard e di ottimo carattere. Poniamo una grande cura attenzione agli aspetti morfologici e caratteriali dei soggetti utilizzati in ogni accoppiamento per ottenere cuccioli sani e di buon carattere.

I nostri cuccioli nascono e crescono in casa, liberi di socializzare con altri cani e vengono consegnati solo dopo i 60 giorni come previsto per legge, con microchip, libretto sanitario, copie documenti dei genitori e pedigree Italiano ENCI/ROI.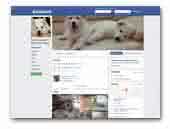 Psarna/Kennel St. Agnes Von Kropp
For sale 5 White Swiss Sheperd (Berger Blanc Suisse) pupie dogs born 04/11/2017. Mother and father are top dog with the best possible evaluation.

Mother: Laika aka Lori (parents: Naik Nannok Fliegeland and Verona Vana Fliegeland) succumbs / born 03.06.2012, pedigree No. / Pedigree Nr .: SLRAKO-000462, Medical tests / Hhealth tests: HB A ED0 , breeding evaluation A. Father: Solo Contro Tutti od Bijelih Anđela, born 15.02.2016, Pedigre nr.: LOF HR10205ŠBO . Health tests / Hhealth tests: HB A ED0 Junior champion of Slovenia, Croatia, BIH. Champion on world special Leipzig Germany 2017. "OD BIJELIH ANĐELA" KENNEL, FCI 5507 Date of birth: 15.02.2016. HD-A, ED-0 MDR +/+, DM N/N, DNA High: 66 cm, Weight: 39 kg BREEDING LICENCE: excellent.

There are still 3 female and 2 male for sale. Kennel St. Agnes Von Kropp. Puppies are vaccinated and inserted a chip. They are ready for new owners.