Berner Sennenhund / Bernese Mountain Dog
Bouvier bernois / Boyeros de Berna / Bouvier de Berna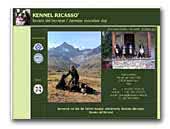 Ricassò - Allevamento dedicato alla razza Bovaro del Bernese
Bernese Mountain Dogs have lived in Ricassò since 1997 and this small kennel is to them fully dedicated. Ricassò is a vine covered hillside at the foot of the Alps in Valtellina, where we found our little paradise along with our Berners.

Health, type and temperament is what we are focused on and committed to. Although show winners, our dogs are mainly raised as family dogs and no different lifestyles may match their nature better.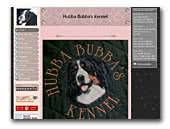 Hubba Bubba's Kennel
Small family kennel breeding Bernese Mountaindogs, with more then 30 years of experience. We strive to breed quality dogs, and our first priority are temperament, type and longlivety.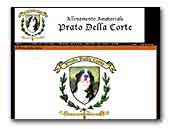 Prato Della Corte
Prato della Corte arises from a dream:
to live in harmony with our dogs, ourselves and the world around us.

We decided to breed for a purpose:
to share with the future owners that ideal framework represented by a combination of matching and then offer them a subject who can get the basics for a peaceful and balanced coexistence.

Our philosophy, hence the choice of our stallions and mares, runs on parallel but inseparable tracks consisting of:
• morphological beauty as a prerequisite for wellness and health,
• proper handling of sensitive periods as a pillar for equilibrium behavior.
This is us, this is the dream we want to share with everyone.

You are most welcome ...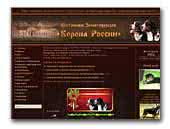 Kennel KORONA ROSSII
Питомник "Корона России" занимается разведением Berner sennenhund, Grosser Schweizer sennenhund, Entlebuher sennenhund. Наша цель здоровые и красивые собаки. Наши собаки живыт с нами под одной крышей.

Посетите наш сайт, познакомьтесь с нашими собаками. Мы рады видеть вас среди владельцев наших щенков! Мы любим своих собак!
Great Swiss Mountain Dog
Entlebuch Cattle Dog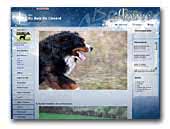 Elevage Du bois de cissard
Elevage de Bouvier bernois.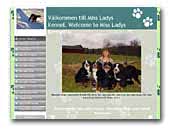 Miss Ladys Kennel
Breaders of Bernese mountaindogs since 1989

All of our adults, puppies and puppy litters are living in our house together with us, as part of the family.

The kennel is connected to the Swedish kennel club (SKK). We are following their breading rules. The kennel is both inspected by the kennel club and the community's inspectors all without any complaints. All of our breading is following the SKK breading ethic rules, so of course we only bread from dogs that are free from HD (Hip Dysplasi) and ED (Elbow Dysplasi) and that have a good mentality.

The puppies are released to their new families after an age of 8 weeks. They all have full pedigree (KC registered), id chip marked, vaccinated, veterinary controlled and wormed. We always give our puppy owners information about how to take care of their new dog. We also give you life long support. I am an educated Instructor for dog training and can always give my puppy owners good advice about training and other advice that can be good to have for either the experienced owner ore the first time dog owner.

Please feel free to contact us with any questions.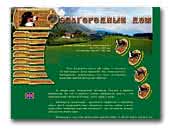 Kennel Iz Blagorodnogo Doma
Specialized Kennel of Swiss Sennenhunds "Is Blagorodnogo Doma" was registered in RKF(FCI) in 1999. The main task of our work is breeding dogs with salubrity and stable psyhic. Puppies of show and pet classes are growing up equally well.

Among our dogs, borned in our kennel, World's and Europe's Champions of different years. We are happy with our dogs and we would be glad to make you some more happy too. Welcome!
Entlebuch Cattle Dog
Great Swiss Mountain Dog
Appenzell Cattle Dog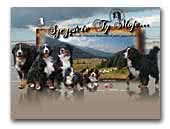 Szczescie Ty Moje - Bernese Mountain Dog Home Kennel
We invite all of you at our kennel. Bernese Mountain Dogs bring to any home a lot of joy and happiness therefore name of our kennel is "Szczescie Ty Moje" (in English: "Joy of Mine"). At website you can find many photos and information about breed and puppies in our kennel.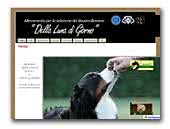 Kennel della Luna di Giorno
Kennel "della Luna di Giorno" is a small kennel in Italy. We breed looking to Typ, Health and Character using the best European bloodlines.
Entlebuch Cattle Dog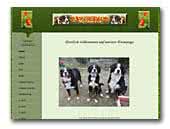 Zwinger von der Mohnwiese
Hobbyzucht für Reinrassige Berner Sennenwelpen mit Papiere

Wir legen großen Wert auf die Gesundheit unserer Tiere. Deshalb haben wir den Fokus auch u. a. auf Erbkrankheiten gelegt. Unsere Zuchthündinnen sind auf HD,ED, und OCD geröntgt, und als frei bzw. o.B. ausgewertet.

Auch von den Deckrüden verlangen wir, das sie von diesen Krankheiten frei sind. Des weiteren achten wir darauf, das die Hunde vom Wesen und Körperbau gut zusammen passen. Die Welpen werden im Haus geworfen und wachsen, wie alle tierischen Familienmitglieder auch hier auf. Je nach Alter und Witterung haben sie auch Zugang zu Hof und Garten, so das sie an möglichst viele der üblichen Alltagsgeräusche und Untergründe gewöhnt werden. Bei Abgabe sind sie mehrfach entwurmt, tierärztlich Untersucht und bekommen einen Chip so wie EU-Heimtierausweis und den Ahnenpass. Wir tun alles nach besten Wissen und Gewissen, um ihnen einen gut sozialisierten, lebensfrohen und gesunden Welpen als neues Familienmitglied zu übergeben.

Gerne sind wir mit Rat und Tat für Sie da. Nicht nur vor den Welpenkauf, sondern ein Bernerleben lang. Denn wir freuen uns immer von "unseren Bernerbabys" und ihrer Entwicklung etwas zu erfahren. Sollten wir Ihr Interesse geweckt haben, nehmen sie doch einfach telf. oder per Mail mit uns Kontakt auf. Denn wir möchten die zukünftigen Welpenbesitzer und ihre Lebensumstände vorher kennen lernen, bevor wir sie mit auf unserer Interessentenliste setzen. Auch ist so Ihre Chance größer, einen Welpen ihrer Wahl (Geschlecht, Aussehen u.s.w.), zu erhalten.
.

.