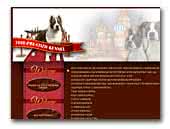 kennel TOIR-PRESTIZH
Welcome on the site of kennel of "Toir Prestige" which is in the Moscow suburb settlement of Malakhovka. Our kennel was registered in RKF-FCI in October, 1996.

Today we have in truth impressive results - for these a few years of dog of "Toir Prestige" was won great number of the largest Russian and foreign exhibitions. Now the dogs of our kennel have next titles - 2 Champions Evropy, 2 vice-champions Evropy, Young Champion of Evropy, 17 Inter of Champions, 20 Multi Champions, 12 Champions of NKAST, 10 Grandee of Champions, 39 Champions of Russia, 82 Champions of other countries, and also winners of classes and prizewinners of World and Evropy Cups. Now our dogs got 154 CACIB!

Добро пожаловать на сайт питомника "Тоир Престиж", который находится в подмосковном поселке Малаховка. Наш питомник был зарегистрирован в РКФ-ФЦИ в октябре 1996 года.

Сегодня мы имеем поистине впечатляющие результаты - за эти несколько лет собаки "Тоир Престиж" выиграли множество крупнейших российских и зарубежных выставок. На данный момент собаки нашего питомника имеют следующие титулы - 2 Чемпиона Европы, 2 Вице-Чемпиона Европы, Юный Чемпион Европы, 17 Интер Чемпионов, 20 Мульти Чемпионов, 12 Чемпионов НКАСТ, 10 Гранд Чемпионов, 39 Чемпионов России, 82 Чемпионов других стран, а также победители классов и призеры Чемпионатов Мира и Европы. На данный момент наши собаки получили 154 CACIB!
American Staffordshire Terrier