Bouledogue français / French Bulldog / Französiche Bulldogge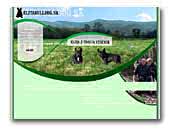 Elita z údolia Vtáčnik
French bulldog kennel from Slovakia.






VAN-BULL English and French Bulldog
English and French bulldog kennel from Slovakia.


English Bulldog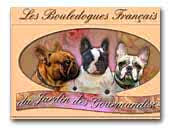 Du Jardin des Gourmandises
Family kennel where our French bulldogs are raised with care, love and passion!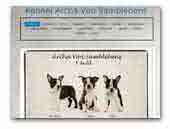 Kennel Vust Mellegaard
A small kennel for breed of Boston Terrier and French Bulldog of very heigh helth and standard.
Boston Terrier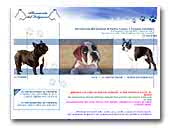 Allevamento del Solgimar
I nostri cani sono tutti controllati per le patologie delle varie razze. Alleviamo tenendo conto della Sanita', del carattere e non per ultima della morfoligia.
Boxer
Boston Terrier
Brussels Griffon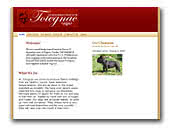 Totegnac French Bulldog Kennel
Small family kennel based in Pusca, 25 kilometers west of Zagreb, Croatia. Our kennel is officially registered with the F.C.I. (Fédération Cynologique Internationale) and the Croatian Kennel Club (HKS) under the name Totegnac and register number 73/07.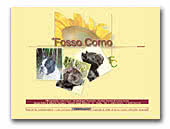 Allevamento di Fosso Corno
"di Fosso Corno" kennel, Cane Corso Italiano, French Bulldog & Boston Terrier. Home of national, international and several countries champions! We breed for health, temperament and tipicity with passion and love.
Cane Corso Italiano
Boston Terrier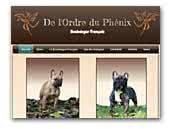 De l'Ordre du Phénix
Site dédié à notre passion: le bouledogue français, son histoire, le caractère. Sans oublier la présentation de nos chers bouledogues, leurs origines, leurs expositions et de nombreuses photos de la famille.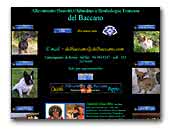 del Baccano - Allevamento Bassotti, Chihuahua e Bouledogue Francese
Allevamento riconosciuto enci per la selezione Chihuahua pelo corto e lungo - Bassotti pelo corto nani e kanichen - Bouledogue Francese.
Dachshund
Chihuahua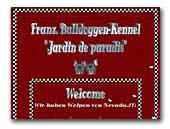 Jardin de paradis
Französische Bulldoggen-Kennel
Wir haben zeitweise zuckersüße gesunde, kräftige und Freiatmende French Bully Welpen. Vor Abgabe werden die Welpen Tierärztlich untersucht, 5-Fach geimpft, entwurmt und erhalten eine Ahnentafel eines anerkannten Vereines.

Unsere Welpen wachsen in der Familie auf und sind daher, sehr Lieb, Sozial und Kinderfreundlich, sind an andere Hunde und Katzen gewöhnt.

Besichtigung ist nach Absprache jederzeit möglich. Sie haben auch die Auswahlmöglichkeit, wenn wir mehrere Welpen haben. Wir sind eine vom Amtstierarzt kontrollierte und genehmigte Zuchtstätte. Haben Sie Fragen zu unserer bezaubernden Rasselbande können Sie gern anrufen, weitere Info auf meiner Hp. (Großraum Frankfurt)
.

.