Bouledogue français / French Bulldog / Französiche Bulldogge

I Bouledogue Francesi del Bull'o
I Bouledogue Francesi del Bull'o, Allevamento di cani di razza Bouledogue Francese - French Bulldog - Bouledogue Francais. La storia della razza, lo standard, molte informazioni utili, curiosita', links, cuccioli e molto altro.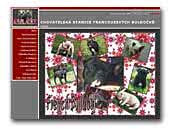 KBELÁČEK
French bulldog kennel from Czech republic.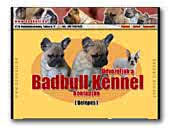 Badbull Kennel
French and English Bulldog Kennel.


English Bulldog
Dogo Canario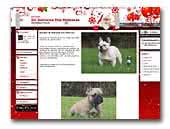 Du Domaine Des Molosses
Elevage familial, chiots toutes couleurs, selections des reproducteur.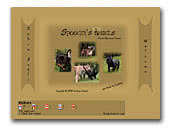 Spookey's Angels
French bulldog kennel from Zagreb, Croatia.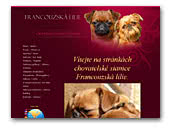 Francouzská lilie
Internationally registered cattery French lily was established in 1987, 25 years I have dealt with the French Bulldog breed, and since 2007, Griffons behave. My Griffons with me live in the house and family members. I try to behave in a healthy and beautiful dogs that will make you happy new owners at home and at dog shows. Breeding service for granted.
Small Brabant Griffon
Brussels Griffon
Belgian Griffon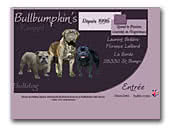 Bullbumpkin's Bully Dogs
We breed English and French Bulldogs, Bullmastiff and Staffordshire Bull Terriers. All our puppies born at home and stay with us until they leave for their new family. All our puppies leaves with a pedigree, inoclulated and microchiped.
English Bulldog
Bullmastiff
Staffordshire Bull Terrier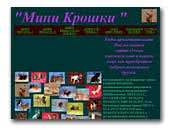 Питомник   МИНИ КРОШКИ
Племенной питомник "МИНИ  КРОШКИ"входящий в состав ПКО "ПРИРОДА-ЦЕНТР" занимается разведением самых маленьких, самых крошечных,карманных собачек - Чихуахуа, Русский Той-терьер и Французский бульдог.

В своей работе мы стараемся получить таких  миниатюрных "лапочек", определением для которых станет-"радость на  лодошке". В нашем питомнике вседа найдется малютка на любой ,даже самый изысканый вкус.
Chihuahua
Russian Toy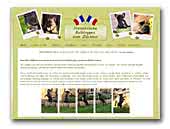 Belle-Colore
Französische Bulldoggen black&tan
Wir haben zeitweise french bulldogs in black&tan mit uci zu vergeben.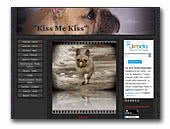 Kiss Me Kiss
Breeder french bulldog Kiss Me Kiss.




.

.