Bouledogue français / French Bulldog / Französiche Bulldogge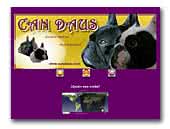 CAN DAUS
Family kennel of French Bulldog.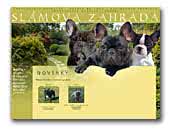 SLÁMOVA ZAHRADA
French bulldog kennel
French bulldog kennel from Czech republic. Raising dogs in the family tradition of 10 years.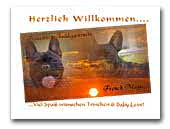 French Magic
Wie der Name schon erahnen läßt bedeuten die Franz. Bulldoggen für uns Magie. Wir haben nur zeitweise Welpen aus durchdachten und gesundheitsorientierten Verpaarungen abzugeben. Unsere Welpen wachsen in der Familie u. im Rudel auf.

Schauen Sie auf unserer Homepage vorbei und machen sie sich ein Bild.Wir freuen uns auf Ihren Besuch.
Die French Magic BullysFrench Bulldog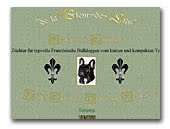 Französische Bulldoggen de la Fleur-de-Lys
Breeder of short & compact French Bulldogs.
*April 2009: we currently have 1 male in 40/60-brindle looking for a new, caring home left*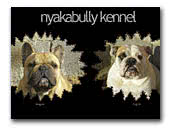 Nyakabully Kennel
Bulldog and French Bulldog breeder in Hungary. Beautiful, strong and healthy puppies from winner parents for sale with microchip, FCI Pedigree and Pet Passport.
English Bulldog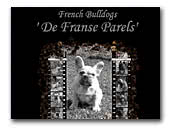 De Franse Parels
French bulldog kennel
We are breed French bulldog and we are located in Holland, the Netherlands. Our first and foremost goal is to breed for health and temperament. We are specialized in Reds, Creams, Blues en Chocolates.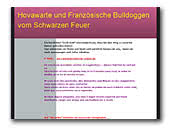 vom Schwarzen Feuer
We are breeder of Französische Bulldoggen. For more Informations, please visit our Website.




Braverys French Bulldog Kennel
Welcome in our website dedicated to French bulldogs, which have become inseparable part of our daily life. They live in our homes and are members of our family. Our dogs are excellent representatives of their breed, combining appearance qualities, stable breed temper and good health.

Their parents and ancestors descend from the leading breeding farms of French bulldogs - de la Parure, Noblige, A'Vigdors, Fivelzight, Exclusive French, Iz Palevih Buldogov and others. If you have any questions, please, do not hasitate to contact us!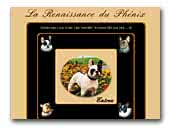 La Renaissance du Phénix
Eleveur et passionné de Bouledogues Français depuis 1984. Nombreux champions. Photos pedigree. Mes étalons.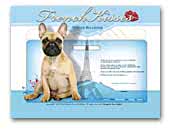 Frenchkisses Frenchbulldogs
* FRENCHKISSES Frenchbulldogs * Established - Experienced - ReputableBreeders !! We breed healthy , happy , sound temperament puppies in standard Fawn - Brindle - Brindle Pied & we specialize in the Blue gene Frenchbulldogs !! Fresh & Frozen sperm available for shipping. All our puppy are reared in our family with other dogs & children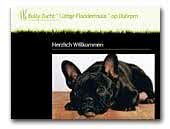 Lüttge Fladdermüüs
Französische Bulldoggen
Wir sind eine kleine Hobbyzuchtstätte und haben nur ab und zu Welpen in liebevolle Hände abzugeben.

Unser Ziel ist es gesunde, langlebige Französische Bulldoggen zu züchten die Ihren neuen Besitzern viel Freude machen. Wir züchten nicht auf spezielle Farbschläge nur weil eine bestimmte Farbe gerade "in" ist.

Durch ständige Fortbildungen bei der VDH-Akademie halten wir unser Wissen stets auf den neuesten Stand.

Desweiteren legen wir größten Wert auf eine Verpaarung von genetisch gut zusammenpassenden Elterntieren. Unsere Zuchthunde haben alle notwendigen Untersuchungen und werden regelmäßig zur Kontrolle dem Tierarzt vorgestellt..

Sehr wichtig ist uns vorallem, dass all unsere Bullys absolut freiatmend und bewegungsfreudig sind. Unsere Babys wachsen bei uns im Haus, in der Familie und im Hunderudel auf. Sie haben kompletten Anschluss an das alltägliche Leben und werden an verschiedenste Alltagssituationen gewöhnt.

Sie werden geimpft, entwurmt und gechipt, erhalten natürlich einen EU-Heimtierausweis und selbstverständlich Papiere vom VDR.

Zusätzlich erhält jeder Welpe bei seinem Auszug ein Starterpaket mit Futter für die erste Zeit, einer Decke mit Rudelgeruch, einem Spielzeug sowie Halsband und Leine.

Wir stehen allen Interessenten gerne und jederzeit für Fragen zur Verfügung.
.

.