Bouledogue français / French Bulldog / Französiche Bulldogge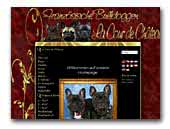 La cour de Chàteau
Französische Bulldoggen aus besten Championlinien.

Wir züchten in kleinem familiären Rahme und unsere Welpen wachsen als Familienmitglieder in Haus und Garten auf. Da uns die Gesundheit der Rasse sehr am Herzen liegt sind unsere Zuchthunde alle entsprechend untersucht, wie man auf unserer Homepage sehen kann. Überzeugen Sie sich doch einfach selbst und besuchen sie uns auf unserer Homepage. Wir freuen uns auf Ihren Besuch.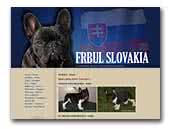 Frbul Slovakia Kennel
We are small kennel of French buldog from Slovakia. We've breed french buldogs since 2010.

Our motto: Breed for quality not for quantity!
frbul Slovakia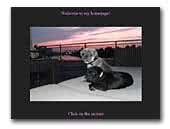 Little Monster
We are breeders of rare colour pugs and french

Bulldogs, we breed white, platium and chocolates pugs and blue and chocolate frenchies. We are based in Hungary but regularly ship all over europe, we have been breeding for many years and are very experienced in breeder rare colours.

If you need anymore information please feel free to contact me.
Pug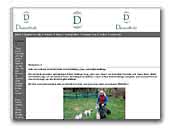 DEZINERBULLZ
We are hobby breeders specializing in French bulldogs, Pugs, with rare colours, we have Blue Frenchies and Fawn, Black, White and Platium pugs, we are based in Essex, Breeding several litters a year of Blue French Bulldogs and pieds, and several litters or rare breed pugs, we also breed English Bulldogs.
Pug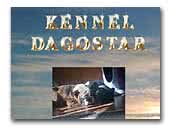 kennel Dagostar
We are a little kennel in Estonia.Our first pedigree dog was french bulldog Lote. She came to our family at 2007. 2 years later came to our family a little english bulldog girl and ever sence our love belong to all bulldogs.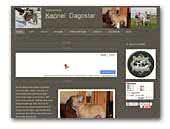 kennel Dagostar
English Bulldog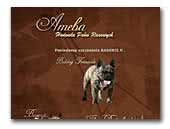 Breeder AMEBA
AMEBA is Polish kennel specialized in French Bulldog,Basenji,Thai Ridgeback and Weimaraner. News, our dogs, photos, shows, litters and puppies. Your always welcome to contact us for about our dogs.
Basenji
Thai Ridgeback Dog
Weimaraner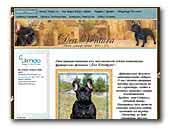 Dea Ventura French bulldog kennel
Our kennel based in Minsk, Belarus. Officially registered with the F.C.I. (Fédération Cynologique Internationale) . Visit our website and see our dogs and puppies. Individual care for each dog with love !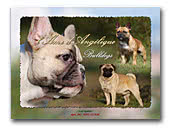 de l'Ame d'Angélique
French Bulldog Kennel
Our kennel is seek the high quality of the breed. We breed for show and breeding with excellent bloodline and perfect dogs.
.

.