Bouledogue français / French Bulldog
Französiche Bulldogge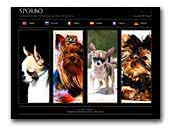 POLBO Kennel (S POLYA BORODINA)
SPOLBO. Passion For Quality.

Welcome To Spolbo Chihuahuas, Yorkshire Terriers and French Bulldog!

Yorkies, chihauhuas and frenchies bred, shown, ownend and loved by Marina Kanevski and Alexandra Dementiev

We have raised, showed and loved Yorkshire Terriers and French Bulldog for the last 12 years and now we added an other breed to our family: Chihuahuas. We love intelligence, beauty, and temperament of all 3 breeds. The Yorkie is a little Royalty with his silver and gold shining coats, with his head and tail up, with his expressive eyes full of dignity and affection.

Chihuahuas are different. Fully independent and very proud little dogs those are full of personality and character!

Welcome to our web site and enjoy with us the smallest dogs with the biggest heart!

Sincerely Yours:
Alexandra Dementiev & Marina Kanevski (FCI International Judge)
Chihuahua
Yorkshire Terrier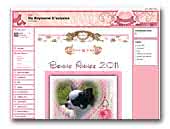 Royaume d'Exquise
Le royaume d'exquise propose toute l'année de superbes chiots chihuahuas poil long-poil court, Bouledogues français pure race lof top qualité expo issus de lignées de champions, de toutes couleurs. Les chiots naissent chez nous en France, leurs parents sont visibles à notre domicile. Les bébés sont prêts à partir à l'âge de 9 semaines minimum selon leur évolution et après avoir suivi un protocole de socialisation. Ils sont vaccinés, vermifugés, pucés et sont cédés avec leur contrat de vente, leur certificat vétérinaire de bonne santé et leur kit chiot. Nous sommes un élevage familial sérieux, passionné, expérimenté, titulaire du certificat de capacité, situé dans les yvelines à 40 mn de paris.
Chihuahua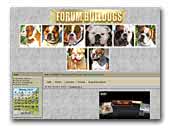 bulldrow.unoforum.ru
American Bulldog, French Bulldog, Bulldogs In Russia.
American Bulldog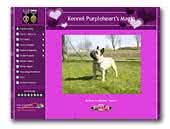 Purpleheart's Magic
French bulldog small kennel from Denmark. We would like to introduce you our Frenchies who are our essential members of our family with very important position in our life.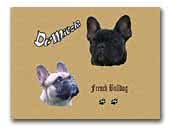 DeMicor - Bulldog Francés
Cría selectiva totalmente familiar de Bulldog Francés, Para más información contacte con nosotros.

Selective breeding completely familiar French Bulldog. For more information contact us.



Barbatilla - francia bulldog kennel
Boldog, egészséges kiskutyákat, a legjobb gazdiknak!.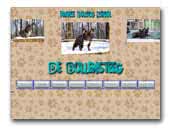 De Bullensteeg
Wij zijn een beginnende franse bulldog kennel die zoekt naar goede combinaties tussen de ouderdieren. Ze worden huiselijk opgevoed met knderen en andere honden om een goed sociaal en stabiel karakter te vormen. Met grote regelmaat zijn wij terug te vinden op shows en op de gehoorzaamheidscursus. Dit alles uit de grote liefde voor de franse bulldog.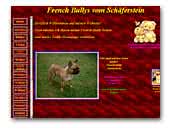 French Bullys vom Schäferstein
Wir züchten Frenchys in red-fawn im sportlichen Typ. Es wird nur mit Keilwirbel freien Frenchys gezüchtet. Gesundheit und eine längere Nase sind unser Zuchtziel. Unsere Frenchys sind sportlich und klein, wiegen nicht mehr als 12 kg. Mehr Infos auf unserer Webseite.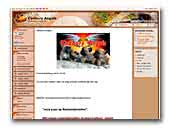 Cadbury Angels
The French Bulldog is a gentle breed that typically has a happy-go-lucky attitude. Like many other companion dog breeds they require close contact with humans. They have fairly minimal exercise needs, but do require at least daily walks.

Their calm nature makes them excellent choices for apartment dwellers, as does their usually sensible attitude towards barking. As a flat faced breed, it is essential that owners understand that French Bulldogs cannot live outdoors.

When pups leave the kennel they are vaccinated, chipped, european pasport, fci pedigree Sint-Hubert- 1 year guarantee hereditary deviations.
Staffordshire Bull Terrier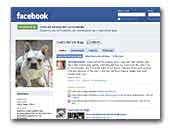 Costa del sol dogs
Breeders of top quality french bulldogs.


« Prev 1 2 3 4 5 6 7 8 9 10 11 12 13 14 15 16 17 18 19 20 21 22 23 24 25 26 27 28 Next »