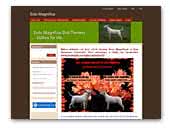 Solo Magnifica Bull Terriers
We are a small kennel of bull terriers located in the heart of Europe, Czech Republic. We believe in quality not quantity and strive to produce top quality Bull Terriers that excell in breed type, sound temperaments and are most importantly clear of all known hereditary diseases.

Our breeding stock comes from the best UK and Australian lines. Feel free to browse our site and facebook for updates on our dogs, litters, new additions and show wins.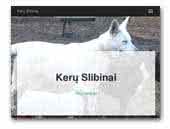 Keru Slibinai
We breed English bulldogs, English Bull Terriers and White Swiss Shepherds. All these breeds are connected by a feature which is very important to us, namely tolerance and love for children.

We are a "family kennel" - we have few dogs in order to give enough love and attention to all of them. Dogs do not live in cages but together with us. We plan to expand moderately while trying to ensure that all kennel dogs have a good mental and physical health. We are doing compulsory and additional health examinations according to the LKD standards. We do not have our own sires because we do not want to "stamp" puppies and we are looking for the best for our dams. We do not mate with the same sire more than two times.

We know that the lack of early socialization leads to irreplaceable changes in the functioning of the brain and its anatomy, which creates such problems as aggression and fear of humans in further life. For this reason, we focus on socialization with other dogs, people and introducing the widest range of environments. Socialization with people is the most important task in the puppy training. The future puppy's temperament is formed in about first three months of his life. Knowing these problems and, in order to avoid them, we try to socialize them early.

The socialization of puppies with people is a simple and enjoyable activity. We cannot do without the help of friends and neighbors. We throw parties for puppies who have another home and they feel safe near other dogs because we socialize not just with the mother of the puppies.
English Bulldog
White Swiss Shepherd Dog