Bulldog / English Bulldog / British Bulldog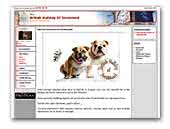 OF SCRUBLAND British Bulldog
Petit élevage familial situé dans le Sud de la France, non loin des Massifs de la Ste Baume, du Mont Aurélien et de la Ste Victoire. Notre premier bulldog anglais est arrivé à la suite d'une balade sur une exposition. Quelle tête, quel charisme, quelle allure..... Certains pourraient dire moches, baveux, péteurs, rôteurs, mais moi je suis tombée amoureuse de ce facies si atypique.

Eddy est arrivé un jour de février 2010. Petite boule de poils si adorable, devenue aujourd'hui un athlète puissant, tellement doux et câlin. Impossible de s'arrêter. Alors c'est Hagathe qui a rejoint le foyer en juillet 2012. Une beauté à l'état pur. Une chipie aussi, très heureuse de faire tourner le "gros" en bourrique. et puis........ bientôt...... 1700m² de jardin sous les oliviers pour se divertir mais surtout toute la maison pour dormir. Chez nous pas de cage, pas de box. Garant d'un élevage sain, - Nos chiens sont tous LOF testés ADN et HUU - Ils ont tous leur TAN - Ils sont tous côtés au Club du Bulldog Anglais et de ce fait sont régulièrement en exposition. - Nous sommes membre du Club du Bulldog Anglais A votre disposition pour de plus amples renseignements Bonne visite.....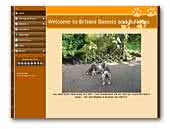 Brizani Basset-Hound and Bulldog Kennel
We are a small family run Kennel in the north of Germany between Berlin and Hamburg.We have around 10 dogs (only Bassets + Bulldogs) since 45 years and since than we like to go on shows to meet other dog peoples from other countries and make friendship with them. We have got a profound knowlegde of bloodlines over the years and breed very selective.
Basset Hound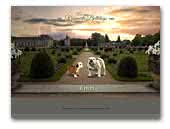 Ragmarte Bulldog breeder
Show Bulldog kennel, UK.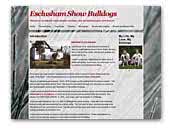 Esclusham Show Bulldogs
We have only a small show breeder kennel. and have Bred 3 UK Champions. Our latest female Champion Esclusham Right Reason. show potential /pet puppies sometimes available.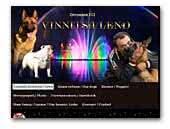 Kennel 'Vinnitsa Lend'
Welcome to kennel "Vinnitsa Lend"! We will be happy to provide any assistance on breeds that are we have in kennel!
German Shepherd Dog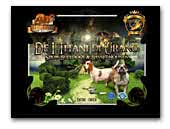 De I Titani di Urano
Show Bulldogs and and Basset Hound
English Bulldogs and Basset Hounds in Alessandria ITA.
Basset Hound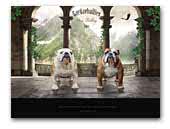 SARDAVBULLIES Bulldogs
SARDAVBULLIES. Bulldog Kennel in Ireland.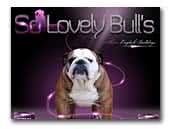 SO LOVELY BULL'S
Elevage Bulldogs Anglais
SO LOVELY BULL'S: Elevage Bulldogs Anglais Hautes origines

Elevage de bulldogs anglais situé dans une charmante petite ville aveyronnaise appelée FIRMI, au coeur de l'ancien bassin minier de DECAZEVILLE.

Eleveur - Sélectionneurs De Bulldogs Anglais hautes origines. Notre "Show-Team" est composée de Bulldogs aux origines anglaises prestigieuses (SAINTGEORGES Bulldogs - HIISING Bulldogs).

Nous sommes membres du Club du Bulldogs Anglais. Notre élevage est testé  ADN. Chiots LOF exclusivement.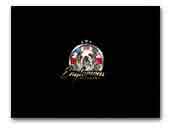 Englorious Bulldogs
We are a small kennel located in Greece, We dedicated to breed healthy & quality bulldogs. Our Dogs are part of our family and live with us.. All our dogs are health checked. We attend to shows International, National and Abroad.. Enjoy our web site and feel free to contact for any information.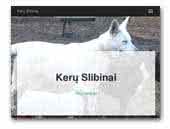 Keru Slibinai
We breed English bulldogs, English Bull Terriers and White Swiss Shepherds. All these breeds are connected by a feature which is very important to us, namely tolerance and love for children.

We are a "family kennel" - we have few dogs in order to give enough love and attention to all of them. Dogs do not live in cages but together with us. We plan to expand moderately while trying to ensure that all kennel dogs have a good mental and physical health. We are doing compulsory and additional health examinations according to the LKD standards. We do not have our own sires because we do not want to "stamp" puppies and we are looking for the best for our dams. We do not mate with the same sire more than two times.

We know that the lack of early socialization leads to irreplaceable changes in the functioning of the brain and its anatomy, which creates such problems as aggression and fear of humans in further life. For this reason, we focus on socialization with other dogs, people and introducing the widest range of environments. Socialization with people is the most important task in the puppy training. The future puppy's temperament is formed in about first three months of his life. Knowing these problems and, in order to avoid them, we try to socialize them early.

The socialization of puppies with people is a simple and enjoyable activity. We cannot do without the help of friends and neighbors. We throw parties for puppies who have another home and they feel safe near other dogs because we socialize not just with the mother of the puppies.
Bull Terrier
White Swiss Shepherd Dog
.

.