Cavalier King Charles Spaniel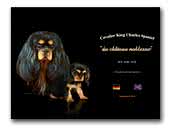 du château noblesse
Cavalier King Charles Spaniel
Cavalier King Charles Spaniel in all four colours, but mainly in black and tan and ruby. Champion-bloodlines, all breeding stuff is heart-clear, PL-clear, DNA-tested on Episodic Falling and Curly Coat / Dry Eye, most of them in addition MRI-scanned and eye-tested.

The breeder is a vet. Puppies available for pet homes and show homes as well.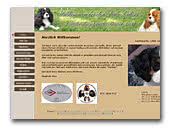 Little Colani's
Cavalier King Charles Spaniel
Kleine Hobbyzucht mit gesunden Verpaarungen über mehrere Generationen, 1-2 Würfe im Jahr.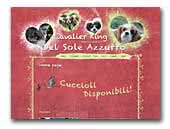 Allevamento Del Sole Azzurro
Cavalier King Charles Spaniel
A small familiar kennel in north Italy, FCI recognized, we breed tricolor and blenheim cavaliers with love and attention to the health problems of this beautiful race.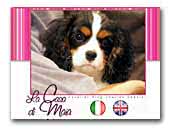 La Casa di Maia Cavalier King
We are a small family breeding of dogs: we breed only Cavalier King Charles Spaniel in two colors, Blenheim (white and orange) and tricolor (black, white and brown). We live in Treviso, at 30 km to Venice, in Italy.

The well being of our dogs and their puppies is for us the most important thing, therefore we plan the litters with extreme attention. The puppies born and live in our home, interact with us and with the domestic environment since the birth.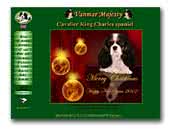 VANMAR MAJESTY kennel
Cavalier king charles spaniel
Cavalier King Charles Spaniel kennel "VANMAR MAJESTY" presentation our dogs, puppies, our hopes, results and pfoto from shows and many more.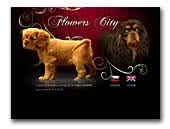 Flowers City
Czech FCI kennel Flowers City, breeding the amazing Cavalier King Charles Spaniels. Visit us on your website!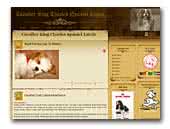 cavalier.lv
Cavalier.lv website is set up to collect all Latvian Cavalier King Charles Spaniels registered in the LKF / FCI system.

At the moment we are not yet in very large numbers but we are nice and happy to meet you.

We want to introduce you to our beautiful dogs, which represent this breed very well and come from very good parents. We can tell you how to buy a good dog of this breed, how to nurture them, what to pay attention to and that this dog breed is the best in the world!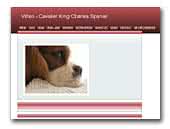 Vitteo
A small Croatian kennel based in capital city Zagreb. Occasionally we have puppies.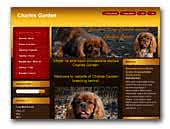 Charles Garden
Breeding kennel of Cavalier King charles spaniel from Czech republic. My dogs have RU, BT, BH and TR colours of fur. These dogs come from a long line of Championship dogs. See our website or write me a e-mail for more information.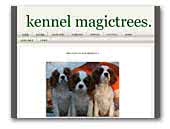 Kennel Magictrees
Finnish made Cavalier King Charles Spaniels and King Charles Spaniels, blenheims and tricolours.
King Charles Spaniel
.

.