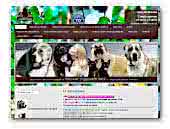 S Severnogo Urala
The certificate number 13746 on the registration of names kennel RKF in FCI through RFSS "from the North Urals" from 24.05.2012 Tribal mnogoporodny nursery
Central Asia Shepherd (CAO. Alabai Turkmen Wolfhound)
Anatolian Shepherd (Kangal, Karabasz,)
Caucasian Shepherd
Chihuahua.

Privetsvuem all lovers of big dogs on our site! Let's get acquainted smiley. We deal with the giant dogs since 2000. The kennel is officially registered in the Russian Cynological Federation (RCF) in 2012. From the very beginning our goal was to get the most large dogs with good bone and excellent working qualities. Our first dog was a huge Caucasian Dobrynya, in 2013 there were CAO, and in 2014 we brought to the Urals first breeding pair of Cangallo, at the time they were in the Russian unit.

To this day, we are dedicated to the breeding of very large and heavy dogs (Alabai, Kangal, Caucasian Shepherd Dog). Preferred height at the withers for our producers 80+ cm or more with the weight category of super tyazhy. We carefully select manufacturers for breeding work, leaving only the best and Stra fix every puppy the most outstanding qualities of our dogs: character, strength and tremendous growth, excellent working qualities and exclusive color. Rare gray color is another of prioriterov in the selection and breeding, to which we aspire.

Our first CAO: Ramesh Abdul-Sketch and had one of the most beautiful and rare colors in this breed gray. From these dogs began our love for gray Alabay. We first started to fix this gene in pups and successfully put on a show dogs in a gray coloration, despite the controversy and debate surrounding. Now this color trendy, exclusive, popular and is still the most rare and eye-catching, always and everywhere. We try to get puppies in all varia tions of gray color from light to dark. This is our brand, our brand, our devotion and love for the gray Alabay.
Central Asia Shepherd Dog
Anatolian Shepherd Dog
Caucasian Shepherd Dog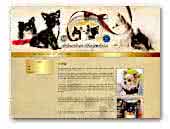 Cashmere Beleza FCI Chihuahua kennel
Dogs are the best friends for me and my family, with whom we spend every free moment, mornings and evenings, and holidays.

Cashmere Beleza is a really small kennel. We do not have pupies quite often, but when they are born, it's the most magnificent momet to us. They grow surrounded by love, and they get to the carefully selected homes. Because, as someone wise said: "A house is not a home without a dog".