Chinese Crested Dog
Chien chinois ŕ cręte / Chinesischer Schopfhund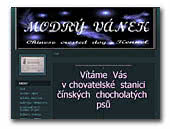 MODRÝ  VÁNEK
Welcome to our kennel. We breed Chinese Crested Dog from proved bloodlines. We are from Czech republic.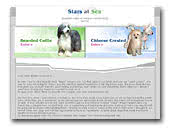 STARS AT SEA Bearded Collies
& Chinese Crested dogs
Bearded Collies & Chinese Crested dogs - Breed and shown with love and passion ...
Please visit our website and meet our dogs.
Bearded Collie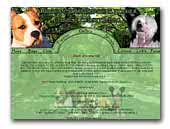 Kipairis - American Staffordshire Terrier
and Chinese Crested Dog
Foto Chinese Crested, Foto am staff, foto from dog shows, puppies.
American Staffordshire Terrier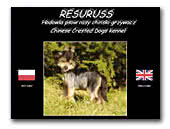 RESURUSS FCI Chinese Crested
We are a small in-home kennel at Poland. We breed for quality, not quantity! Our dogs have interested blood lines, high quality exterier and good character. We regular check health of dogs we have clear eyes,patellas, hearts, ED & HD.
Welcome to Resuruss kennel.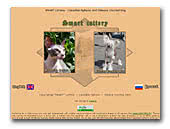 SMART KENNEL - Chinese Crested Dog
Welcome to a site! Together with the Canadian sphynxes at us live naked dog breeds Chinese Crested. His concern to decorative breeds are beautiful and graceful, similar on small horse (in our nursery growth of manufacturers does not exceed 32!!) this year at us puppies Chinese Crested from very interesting pair with unique and perfekt a combination breed N'CO are planned and MOONSWIFT.

Так will be viscous with the checked up manufacturers, whose children have at least the Russian Champion's title, and the exported puppies Chinese Crested champion's titles of the countries of residing. We actively cooperate with known in Russia and not only breeding nursery RKF "KREDO FESTA" and our crested birds are included into the plan of his development.




Forseti's kennel
Chinese crested dog kennel located nearly capitol city of Czech republic.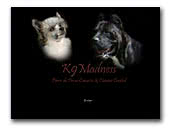 Kennel K9Madness
Breeder of Perro de Presa Canario and Chinese Crested in Norway.
Dogo Canario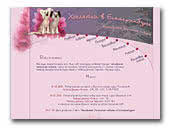 Chinese Crested Dog in Ekaterinburg
Ouwer Chinese Crested Dogs. Foto, shows, puppies, about breed.


« Prev 1 2 3 4 5 6 7 8 9 10 11 12 13 14 15 16 17 18 19 20 21 Next »