Dachshund / Teckel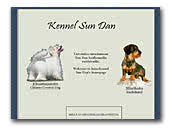 KENNEL SUN DAN
Chinese Crested Dog Breeding since 1997. Top Breeder in Finland 2006 & 2007.
Chinese Crested Dog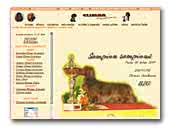 Elimar Doubrava - kennel of long haired
teckels and irish red setters
We are breeding standard, miniature, kaninchen long haired teckels and irish red setters.
Irish Red Setter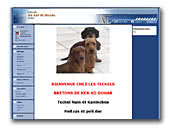 Elevage de ker ki douar - Teckel
Bienvenue chez les Teckels BRETONS DE KER-KI-DOUAR Teckel Nain et Kaninchen Poil ras et poil dur.

Elevage de sélection crée en 1978, ayant pour vocation l'amélioration de la race des teckels nains kaninchens poil ras et poil dur. Après un premier succès lors de l'exposition Nationale du Club des teckels en 1986, l'élevage a remporté tous les ans, un ou plusieurs CACS, avec des sujets différents.  Les teckels nés et ou élevés à la maison comptabilisent aujourd'hui plus d'une soixantaine de titres de champion reconnus par la FCI et notamment en France, Hollande, Luxembourg, Allemagne, Espagne, Portugal, Suisse,  à l'International, ainsi qu'aux championnats d'Europe et du Monde.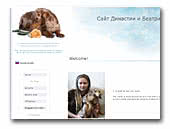 Dinastia & Beatrix Kido
Site about brown merle dachshunds Dinastia and Beatrix Kido.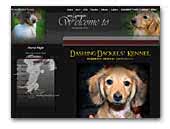 Dashing Dackels' Kennel
We have been breeding miniature dachshunds for pet, show or breeding for over 20 years. We have champion lines such as Ralines and Sniff N' Tell. Our specialty here in Germany are the English Cream and piebalds dachshunds. All of our dogs are raised under foot and not in kennels or kennels.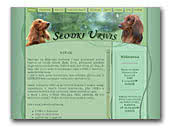 Słodki Urwis Langhaar teckel
News, pedigree,litters,galery.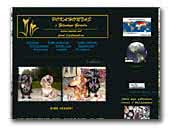 voinov.net
Welcome to our site! We are breeding show-quality smooth-haired standart and wire-haired miniature dachshunds. Take a look at our beloved dogs, maybe you will find here your future puppy!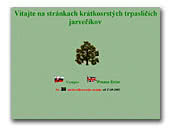 ISTER SLOVAKIA
We are breeding mini-smooths dachshunds in Slovakia. Family kennel from Bratislava - since 2006. We breed for good temperament, health, beauty and working. Presentation of our dog and bitch, galery, results from shows and trials, info about the breed and many more.