Deutsche Dogge / Great Dane / Dogue allemand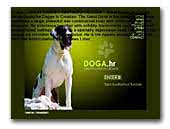 SANCTUS ROCHUS Kennel - Great Danes
Great Danes in Croatia - "SANCTUS ROCHUS" Kennel.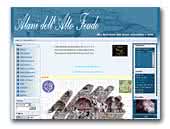 DELL'ALTO FEUDO Kennel
Hight selection of harlequin and black Great Danes.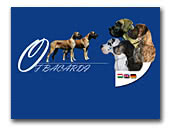 of Bacardi great dane dogs kennel
Home of Bacardi great dane dogs in Hungary.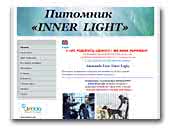 Inner Light
Great dane kennel from Ukraine. Breeding and selection of black and harlequin Great Danes.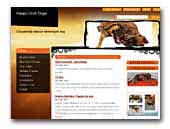 Happy Chilli Dogs - Great Danes Kennel
We are kennel from Czech republic. We breed fawn and brindle danes. Health of our dogs is most important for us. We have dogs from Champion and Interchampion bloodlines. Our dogs are very successful on shows in many countries of Europe (Club winner of Italy, Czech and Slovak, Class winner of Austria and Eu.DDC).

We have very special litter now - Mother Zarah della Baia Azzurra (Italian import, Multichampion) and Father Egisthe d`Iskandar (France, Champion).

See our sites for more info. We will be happy you contact us.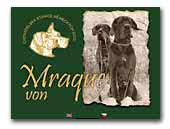 von Mraque
kennel blue variety - Great Dane
Kennel von Mraque-Czech rep./EU has a beauty puppies/blue variety for sale now. We have absolutely socialization method for the future life your next puppy. We can guaratee the parents healthy-HD0/0, USG heart negativ, DNA tests ok. Dam:Bardottka von Mraque -CIB,JCh, Champion many states, Euro winner, 2xClub winner Sire:Sid Cevelob - Nacional winner, Club winner, EU Show 2nd place, JCh,Ch Czech. Our puppies are in our house inside, with children, small dog and cats.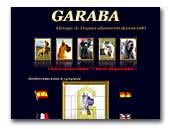 Garaba Deutsche Dogge
Deutsche Dogge Breeder since 1979

We are breeding Great Danes in the 5 colors, with passion for more than 30 years and we are the most titled Spanish breeding of the history. We attach a lot of importance for the beauty and we count lot of champions all over the world, but we also select our dogs for their health and especially for their good character.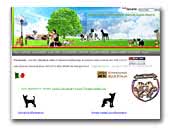 Allevamento Zanna Bianca - Alani, Chihuahua e Chinese Crested Dog
Allevamento Professionale cani riconosciuto Enci ed Fci.
Chihuahua
Chinese Crested Dog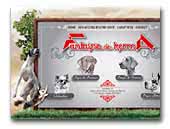 FANTAISIE DE KERMA
FANTAISIE DE KERMA is a small family breeding. We try hard to make a work of beautiful quality, all this in the respect for our dogs to whom we grant many attentions.

Des Dogue allemand de très belle qualité. Comme toutes les races que nous élevons nous ne cherchons pas la facilité mais la qualité dans la sélection de nos chiens.
Dogue de Bordeaux
Weimaraner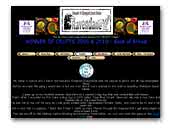 Ravendane Great Danes
Champion Harlequin/Mantle Great Dane Assured Breeder

We are an well recognised & respected breeder and exhibitor of Champion Great Danes with in excess of 25 years breed experience, known for danes of high quality, substance and exceptional temperaments within our breeding. Our numerous achievements include winning at DFS Crufts two years consecutive, one being Best of Breed which has never been done before with a harlequin great dane.
.

.