Deutscher Spitz / Keeshond
German Spitz / Spitz allemand / Wolfspitz / Grossspitz / Giant Spitz / Mittelspitz /
Medium size Spitz / Kleinspitz / Miniature Spitz / Zwergspitz / Pomeranian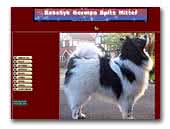 Kasshyk german spitz mittel
Small kennel based in Cheshire UK.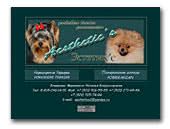 Aesthetics kennel
Fine pomeranians and yorkshire terriers of Russia.
Yorkshire Terrier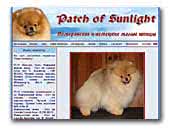 Patch of Sunlight pomeranian and kleinspitz
Pomeranian and kleinspitz in Russia, Sankt-Peterburg.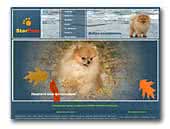 StarPom Pomeranian
High quality Pomeranian hobby breeder located in Moscow, Starfire, Great Elms and Lenette lines.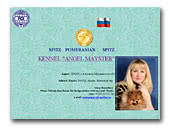 kennel Angel Mayster
Pomeranian show class. The best!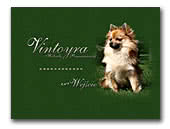 Vintoyra - Pomeranian Kennel
We are a "young" kennel but we are very ambitious. Therefore we select only bitches and studs with the best breeding potential. I hope my website can contribute to promote Pomeranians in Poland.

My goal and wish is to pass on the passion for this wonderful breed. I hope you enjoy reading and look forward to seeing you at a dog show soon.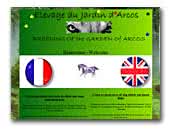 ELEVAGE DU JARDIN D'ARCOS
Venez rencontrer des races de chien que vous connaissez peu: Loup Tchèque, Shiba-inu, Akita-inu, Berger d'Islande, Spitz loup, Eurasier, Chien de Canaan, Suédois de Laponie, Teckel nain a poils longs, Caniche, Yorkshire.
Czeslovakian Wolfdog
Shiba-inu
Akita-inu
Icelandic Sheepdog
Eurasier
Canaan Dog
Swedish Lapphund
Dachshund
Poodle
Yorkshire Terrier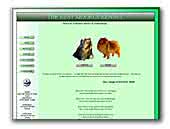 The Best Models
yorkshire terrier & pomeranian
We are happy to share our lifes with dogs who make us very proud to . Welcome in visit ...
Yorkshire Terrier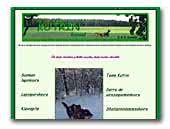 team KUTRIN
Breeder of cao da serra de aires, finnish lapphund and Kleinspits. Whippet racing.
Portugese Sheepdog
Finnish Lapphund