Dogue de Bordeaux / Bordeauxdogge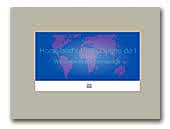 Horseland's Pride Dogue de Bordeaux
We are lovers and breeders of Dogue de Bordeaux in Germany. We look forward to meeting you!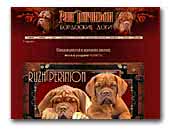 RUZH PERINION
Kennel of Dogue de Bordeaux
Kennel of Dogue de Bordeaux – ROUGE PERIN′ON (getting started with breed 1994). For over 20 years, a dog born with prefixed ROUGE PERIN′ON confirmed the high status of quality at the prestigious show. The kennel has a unique genes best bloods for Russia Belgium and Hungary.

Dogs imported from European catteries rating. Information on tribal dogs you can get the site commemorating of Bordeaux dogs Kennel Rouge Perin′on since the beginning of the breed. Submitted photo album with fragments portfolio mainly show-dogs for a few years of the breeders. You can always discuss your questions with the owner of kennel and held preliminary negotiations to buy a puppy.

On the site are sections on basic dogs kennel, extensive photo gallery of Bordeaux dogs section photobank contains a huge amount of wonderful author photos from different portfolio dogs made by the site owner. Here you can familiarize with provisional cost portfolio your pet at a professional photographer by animal painter.
Pleasant viewing!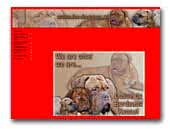 bx-doggen.at
Austrian Dogue de Bordeaux Kennel.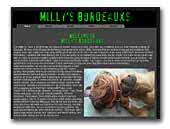 Milly's Bordeauxs
I'm Milly & I have a small family run hobbyist kennel based in london. I live with my 3 children and our ever extending family of Dogues. My love of the Dogue de Bordeaux has grown ever since 1998, from the time my mother in-law got my husbunds first dogue rosie. who sadly has past away at the good old age of 10. We now own 5 dogues, from many of Europe's and beyond best bloodlines.

I beleave with everything in life if you are going to do something make sure you do it right, so I have set my goals high with my aims to produce healthy quality family reared Dogues of highest standerds with great temperaments and movement. I am careful not to overlook confirmation, type and most importantly health,  My dogue's are not in show at present but all have the potential to continue on the bloodlines that is necessary to improve and keep the breed correct and healthy.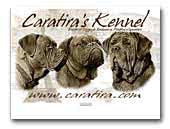 Caratira's Kennel - Dogue de Bordeaux / Mastino Napoletano
Breeder of Dogue de Bordeaux and Mastino Napoletano.
Neapolitan Mastiff

Du Masque de Seth
Elevage de Dogue de Bordeaux
Nous sommes un élevage de qualité, préférant mettre l'accent sur de beaux chiens avec d'excellents caractères, que sur la quantité. Membres de la SADB ( société des Amateurs de Dogue de Bordeaux ), nous œuvrons pour le développement de la race et le respect des animaux.

Toutes nos productions sont inscrites au Livre des Origines Français!!

Numéro d'éleveur: 683696
Numéro d'affixe: 72038
Numéro de SIRET : 510 138 969 00025

Nous vous invitons à venir visiter la demeure du Masque de Seth, et ainsi rencontrer nos compagnons si magique. Alors n'hésitez pas! Venez! Beauty se fera un plaisir de vous faire visiter...

Contactez nous par mail: par mail ou par téléphone.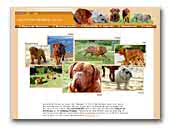 De mont rebellis Dogues de Bordeaux
We are happy to share our passion ; Lovers of beautiful Bordeaux dogs and English bulldogs ... Owners of CH Duke-Udson junior de la demeure combréenne. Have a look on our website !
English Bulldog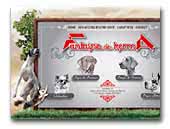 FANTAISIE DE KERMA
FANTAISIE DE KERMA is a small family breeding. We try hard to make a work of beautiful quality, all this in the respect for our dogs to whom we grant many attentions.

Des Dogue allemand de très belle qualité. Comme toutes les races que nous élevons nous ne cherchons pas la facilité mais la qualité dans la sélection de nos chiens.
Weimaraner
Great Dane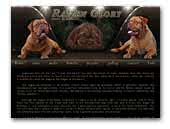 Raizen Glory Dogue de Bordeaux
Our site is devoted to the kennels "Raizen Glory", to our achievements at the shows, to some of the samples of the breed and, certainly, puppies of the best samples of the ancient breed The Dogue of Bordeaux (Frenchmastiff)

The priority directions of the breeding activity of our kennels are psychic and physical sanity of the dogs. Our dogs are certain to get a qualified medical help at the clinic "Bazilio and Kit" we closely cooperate with. All of our DDBs get a hip joint and elbow joint dysplasia check up. The pedigrees of our DDBs have the most modern lines of the leading European kennels.

Our kennels is young, however we have high-quality male breeds and we are going to improve further. We cooperate with the leading kennels and breeders of Russia and Europe, participate in the maijor shows, permanently raising our expertise and trying to keep ourselves informed about all the events in the kinology world, in particular, in the world of the Dogue de Bordeaux.
.

.