English Cocker Spaniel
Spaniel (Cocker)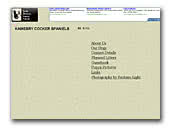 Kamebry Cocker Spaniels
Small hobby breeder dedicated to producing top quality puppies, bred for temprament and soundness, all puppies come with KC Papers, insurance, puppy packs and sale of contract.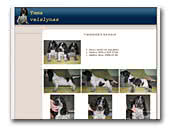 Kennel TEMA
English cocker spaniel and English springer spaniel kennel.
English Springer Spaniel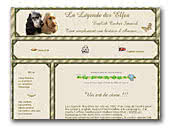 de la Légende des Elfes
English cocker spaniel
Elevage familial de cocker anglais situé en plein coeur de la Normandie, à 1h30 de Paris. Au delà d'une selection rigoureuse, nous accordons beaucoup d'importance au bien-être et confort de tous nos cockers.




Modus Vivendi
We breed Giant schnauzer black & English Cocker Spaniel, we have a lot of Multi Ch and Int ch at home, just come and look ...
Giant Schnauzer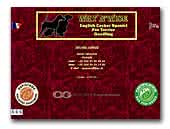 Wry n'Wise Kennel
Fox Terrier smooth and English cocker Spaniel. We are a small kennel in france. We breed with love and serious. Our dogs are from the best bloodlines. Our fox are from American bloodlines. Pup for show or home sometimes available.
Fox Terrier Smooth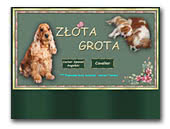 ZŁOTA  GROTA
Welcome to website English Cocker Spaniel and Cavalier King Charles Spaniel Kennel. My Kennel 30 year old.
Cavalier King Charles Spaniel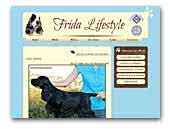 Frida Lifestyle Kennel
ENCI - FCI recognized kennel for English Cocker Spaniel selection, in Palermo (Sicily) We are a recognized hobby kennel sited in the "Mediterranean Pearl", Sicily, in Italy. Our aim is to breed parti-colour and solid colour healthy English Cocker Spaniel with standard character, temperament and morphology.

In our concept English Cocker should be "dual purpose", so good dog show with hunting nature. We have few dogs and they other to be show dogs are first of all our pets and life mates, they live with us in family without pens, sharing their life with ours. We don't always have pups availability, we have few litters, the reproduction is only aim to breed selection and improvement, our saying is "quality not quantity". Our reproducers are all tested for hereditary breed pathologies (PRA-prcd, FN,HD). Pups don't leave their mother until they are 65 days old, they grow up inside a family and serene environment, surrounded by all possible attentions, puppies wellness is fundamental for us. We aim to show puppies but also good for family life.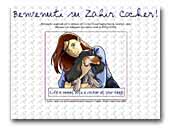 Zahir Cocker
Zahir Cocker - cockers proud to be long-tailed!

A small English Cocker Spaniel show-kennel based in the center of Italy, 20 km far from Rome. Our aim is to breed and show Cocker Spaniels of excellent health, conformation, temperament, movement and hunting inspiration.

We breed ONLY from Optigen tested prcd-pra and FN NORMAL/CLEAR dogs and bitches.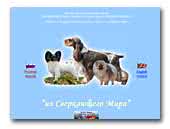 Kennel IZ SVERKAJUSHEGO MIRA
Our kennel is to Smolensk, Russia. Our breed: English cocker spaniel, Papillon, German miniature spitz and Pomeranian.

Welcome to our site! On it you will find information on our dogs, puppies, successes at shows, a big photo gallery and many other things. The kennel is since 1992.
Papillon
German Spitz - Kleinspitz, Pomeranian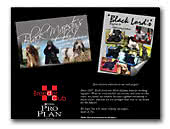 Black Majesty english cocker spaniel
& grand basset griffon vendeen kennel
Welcome at our webpage!

We're breeding english cocker spaniels and grand basset griffon vendeens. Our dogs are tested on genetic diseases,hip scored and also excellent show dogs!
Grand Basset Griffon Vendeen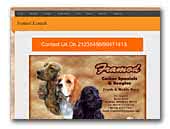 FRAMOD Cocker Spaniels & Beagles
Framod kennels has been established in Malta since 1982, breeding and showing Cocker Spaniels and later Beagles as well. All our dogs are U.K bloodlines based, and have imported numerous dogs from England.

Framod has been the top Kennel in Cocker Spaniels in Malta for many years, our dogs very rarely beaten in the breed. Frank Borg also awards Challenge Certificates in England in Cocker Spaniels, the only Maltese to date approved to judge at championship show level in England.
Beagle
« Prev 1 2 3 4 5 6 7 8 9 10 11 Next »