English Cocker Spaniel / Spaniel (Cocker)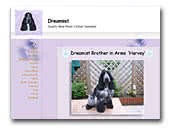 Dreamist Cocker Spaniels
We are a small hobby kennel of blue roan Cocker Spaniels based in North East England. We show our dogs and breed an occasional litter.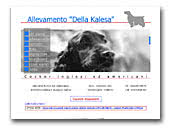 Allevamento della Kalesa
In the old Palermo Arabian quarter rises Kalesa monument (in Arabian "the elected"), name that brings back to the affix "Della Kalesa"- chosen by Stefano Dallara and Pippo Saieva for their English Cocker Spaniel starter kennel. Born thirty years ago under enthusiastic sign they were supported, during the time by the passion and by experience.

Care that is second to none, mechanics and plentiful dog reproduction but that aims to a careful, polished, even if not always healthy growth of qualified subjects, systematically tested for hereditary breed pathologies. The goodness of this attitude is proved from the flattering success achieved in numerous Italian and foreign dog shows and in work trail. Near Palermo, placed in Carini, great and comfortable spaces, accommodated our English cockers that have in their pedigrees more prestigious blood lines and, from fifteen years, also American cockers, deeply wanted by Pippo, that became the first American cocker breeder in Sicily. On these cockers blows a breath that smells like citrus and the sea, that refines and animates also the activity of who, with animals, decided to share their life.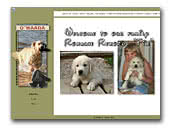 O'haana
A small homekennel breeding english cockerspaniels and golden retrievers.
Golden Retriever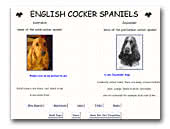 Lochranza / Jayzander Cocker Spaniels
We are a well known show kennel originally established in the 1930's. Lochranza specialises in solid cocker spaniels and Jayzander the particolourscolours. Have a browse at our lovely cockers or meet us at a show!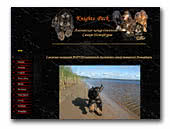 Knights Pack English Cocker Spaniel
English Cocker Spaniel of Saint-Petersburg, Russia.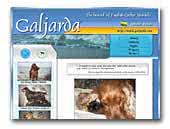 Galjarda English Cocker Spaniels
English Cocker Spaniels Galjarda from Lithuania Klaipeda. About the breed, puppies, our hobbies, shows.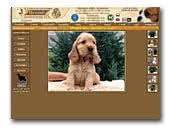 Renmil
The Best Kennel of Poland 1999, 2000, 2001.


Cavalier King Charles Spaniel

kennel ze Záluží
Small breeding of particolored English cocker spaniels in Czech Republic.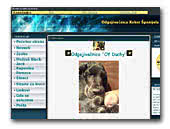 Kennel Of Duchy
English Cocker Spaniel
Kennel Of Duchy with over 20 years of expirience in breeding English Cocker Spaniel.


.

.