English Cocker Spaniel
Spaniel (Cocker)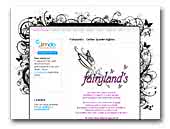 Fairyland's Cocker Spaniel Inglese
Fairyland's Cocker Spaniel Inglese - Il mondo fatato dei cockers!

Mi chiamo Niria, abito in provincia di Novara in un paesino a 2 passi dal lago.. dalla montagna..e dalle verdi colline novaresi! Sin da piccola mi sono innamorata di questa razza e quando ho avuto la possibilità di acquistare la mia prima cockerina..tra tante ho scelto lei.. Blakkendy della Giuliana..detta Chanel, una cockerina nera..e da lì..è stato un susseguirsi di emozioni!

Ho scelto questa stupenda razza perchè sa dare amore, gioia e felicità, senza chiedere niente in cambio..se non una carezza! Un'altra mia grande passione sono le fate, ecco perchè ho deciso di dare questo nome al mio allevamento.. Il compito che mi sono prefissata è quello di migliorare la razza, mettendo in riproduzione solo soggetti sani e testandoli per le principali malattie ereditarie:
PRA (atrofia progressiva della retina)
NF (nefropatia familiare)
HD (displasia)

Non verranno mai utilizzati soggetti affetti dalle malattie sopra indicate. Tutti i cuccioli saranno consegnati con libretto sanitario completo di tutti i vaccini, sverminazioni, microchip e soprattutto con il pedigree. Il pedigree è la carta d'identità degli animali, dove vengono indicati tutti gli antenati del cane (genitori, nonni, bisnonni e trisnonni). Tutti i cocker cresciuti nel mio allevamento saranno muniti di pedigree di ottime genealogie italiane ed estere e discenderanno tutti da ottimi campioni.

Ringrazio i miei genitori, mia sorella e il mio fidanzato che mi aiutano e mi sostengono sempre!

My name is Niria, i live in Italy, with my family, near lakes and mountains. I felt in love with cockers when i was a child, and when i was able to buy a dog..i choose Blakkendy della Giuliana, a black female. In my kennel all of my cockers are tested for PRA, NF and HD. I will never mate affected dogs! I sell puppies with italian pedigree, healthy and socialized with other dogs and humans!

I have to say thank you to my family, and to my boyfriend.. they always support me!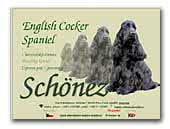 Schönez kennel
Welcome to Schönez kennel.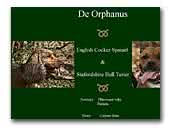 De Orphanus English Cocker Spaniel
& Staffordshire Bull Terrier
The kennel was FCI registered at the end of 2008 after careful consideration. The breeder is my husband ing.Martin Fučík, but for both of us are breeding SBT great hobby and pastime, which brings staffordshire bull terrier in life. We prefer gold, red, Brindle and blue colours - with white points. Black stafies possess.Our plan for the future is to import the blue bitch from the UK and our coverage of Julia therein.

First puppies expected early 2011 and first top cover for our dog also.

English Cocker Spaniel breed is the perfect complement to our stafordšírskými bull terrier mum, and thank you for the opportunity to treat these amazing creatures. They currently own two bitch - gold - at the height of the border, and orange roan. Both come from very good bloodlines and are chosen for them the best coverage with unrelated pedigrees. The first litter is planned for 2011.
Staffordshire Bull Terrier

vom Oesterreichring - Cocker Spaniels
Sound, beautiful, easy-to-train English Cocker Spaniels in most colours (mainly particolour), est. in 1975, I've bred and owned many champions in few litters. My main concern is the breeding of really healthy dogs, and I am always in the first line to defend the health of this beautiful breed.

As I love intelligent dogs, who are easy to train, all my show-dogs are tested in obedience, companion, tracking or agility tests, and some have also passed hunting tests (field trials).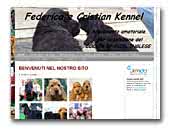 Federica e Cristian english cocker spaniel
Abbiamo un piccolo allevamento di Cocker Spaniel Inglese in Italia. Selezioniamo cani con morfologia a destra e buon carattere. Se si desidera un cucciolo da compagnia o dogshow, visite il nostro sito web o chiamare. Troverete il cucciolo per voi.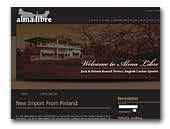 Alma Libre Kennel
We have Jack and Parson Russell Terriers and bicolor English Cocker Spaniel.

Our dogs live in our home with us and are of excellent character and temperament. All our dogs have been examined for the hereditary diseases. We hope you enjoy our dogs as much as we do!

Thank you for visiting Alma Libre Family,
Lina Petsiti & Elias Sofronas
Jack Russell Terrier
Parson Russell Terrier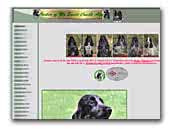 Cocker of My Sweet Castle Alge
Little breed of multicoloured English Cocker Spaniel with maximum one litter a year. All our dogs ddo live with us in our house and family. Even the puppies stay in our home and have the garden as playground.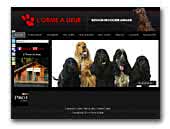 L'Orme à Lieue English Cocker Spaniels
Family (solid & partis) English Cocker spaniel breeder located near Paris (Yvelines). Dogs tested for hereditary diseases. Very well socialised puppies, bred in family in the countryside.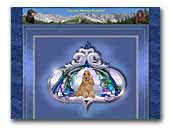 Raitis - English Cocker & Field Spaniel
Aus Weltweit bekannter, moderner, vorzüglicher und verantwortungsvoller Familienliebhaberei. Jahrzehntelange Zuchterfahrung rund um den English Cocker & Field Spaniel.

Alle unsere English Cocker & Field Spaniel bzw. die Elterntiere sind nach den derzeitigen Wissensstand auf erbliche Erkrankungen wie PRA, Katarakt, FN und HD getestet. Vorzügliche und mit viel Liebe in der Familie, "selbst" aufgezogene Welpen mit besten Voraussetzungen.  Ausgezeichnet mit der "Züchternadel des ÖKV in BRONZE - SILBER - GOLD. "ÖKV Gütesiegel".
Field Spaniel
« Prev 1 2 3 4 5 6 7 8 9 10 11 Next »