Papillon / Epagneul nain Continental
Butterfly Dog / Kontinentaler Zwergspaniel / Phalène / Continental Toy Spaniel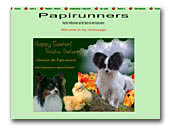 Papirunners
Small Papillonkennel in Germany with special international bloodlines. We love show and breed. You are invited to our website, you are welcome to visit my side.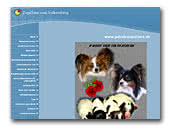 vom Volkersberg Papillons
Papillons are wonderful. I love this intelligent and lovely ellegant kind of dogs. We breed under FCI-VDH and all our breedingdogs are free of PL and PRA.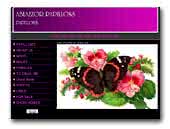 ABLAZZOR Papillons
Do come and look at my website on this lovley breed.I have been owned by papillons for over 20yrs now.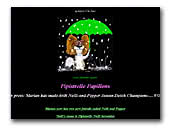 Pipistrelle Papillons
We are a small kennel. Claire Anne Ahern in Ireland and Marian Stiphout in the Netherlands. Claire Anne breeds the dogs and Marian shows some of them on the Continent.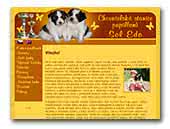 Sol Edo Papillon's Kennel
We are the family hobby kennel and love papillons. We don´t have any cages or hutches, our dogs are part of our family. Many papillons which leaved our kennel you can see at the shows with excellent successes. One of them - Inachis Io Sol Edo can be proud of the elite title A3 Champion in mini-agility too!

"...In spring 1993 I bought my first papillon. Then I started to be interested in breeding these dogs. It happend as follows: The year before I took place in International Dog Show in Nitra with my flander bouvier I saw a lady carrying little something with long fringy ears. I was so fascinated this view! Next months I looked for the race it was. And when I found a puppy for sale I was decided. At our home were only dog females and our new dog had to be a female too. She was our lucky BELLA MONDEE Anrec – Til..."

See much more about papillons on our www!!


Jsme v podstatě rodinný hobby chov tohoto úžasného plemene, nemáme klece, natož kotce, fenky jsou součástí naší rodiny. Naše odchovy nás velmi úspěšně reprezentují na mezinárodních výstavách, fenka Inachis Io Sol Edo  sbírá úspěchy také na poli miniagility - je jako jediný příslušník tohoto plemene držitelkou prestižního titulu A3 Champion.

"...Je to náš velký koníček, tihleti papilloni. Jejich kouzlu jsme podlehli v roce 1992 na jedné mezinárodní výstavě. Rok poté se nám podařilo sehnat fenečku, v té době jich bylo u nás ještě velmi málo. Byla to naše osudová BELLA MONDEE Anrec-Til..."

Více na našich www!!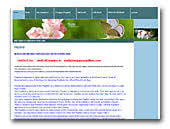 Tamgapa Papillons
Welcome to Tamgapa papillons.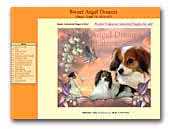 Sweet Angel Dreams
Wir züchten im VK7 VDH/ FCI den Kontinentalen Zwergspaniel Phalene. Zeitweise haben wir aus augeeichneten Verpaarungen Welpen in geeignete Hände abzugeben.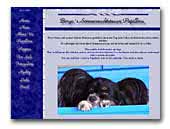 Borgo's Sommernachtstraum Papillons
Welcome to our papillon-kennel. We breed only few litters a year for show, agility and loving homes. Feel free to visit our website and learn more about our lovelies.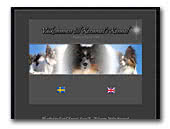 Keramet's Kennel
A small kennel in Sweden breeding for healthy, working and good looking papillons. Take a look at our website for more information!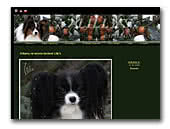 Lilly's
Small show kennel in Poland, excellent pedigrees, high quality dogs only !